Nova- Chat GPT: The Ultimate Chatbot GPT App to Download & Alternatives
Chatbot GPT became popular because it can answer multiple users' questions whenever needed. You can now download the Nova - ChatGPT powered Chatbot app as your personal AI chat assistant through your mobile phone. You can open this app and type it in whenever you have questions and want a detailed explanation. Thus, the app is only new, and there are now more apps with the same feature you can download, a more suitable one than this. What makes this app the best choice? If you are asking the same question, you better read this review because we will explain more about this app as we continually go deeper into details.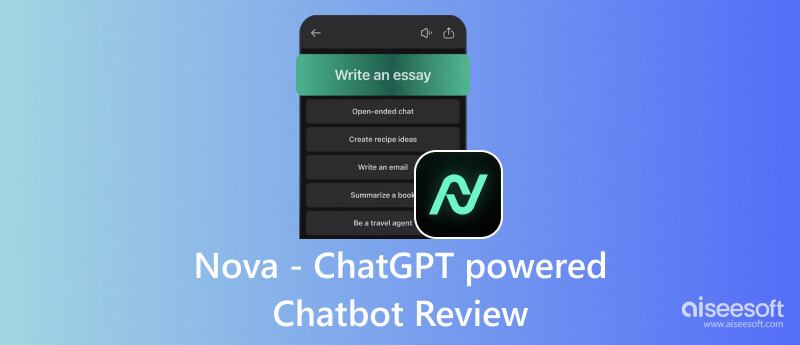 Part 1. What is Nova - ChatGPT powered Chatbot App - A Complete Review of the App
Nova - ChatGPT power Chatbot App is a chatbot GPT program to answer different queries of users that they might type in and answer thru its NLP or Natural Language Processing. Like most AI models, this app uses Transformers based on a deep neural network architecture that is trained on the processed data sets and undergoes the process known as Machine Learning. Since it needs to consume data, most of its training comes from different sources such as books, texts, and websites you can find online. But this app primarily relies on the newest chatGPT, GPT-3, Generative Pre-training Transformer 3, and GPT-4.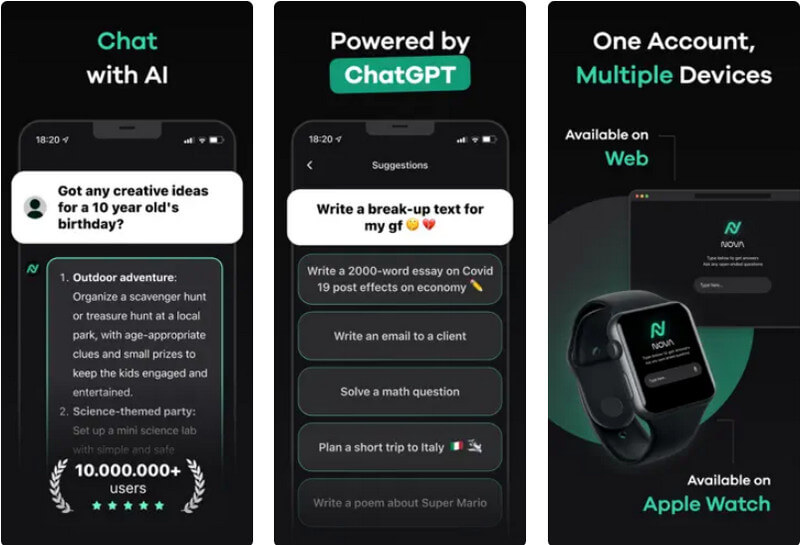 As a user looking for an app that can generate a quick response for writing and personal assistance in any project, this app is reliable and consistently provides good help for everyone. This app can answer most of your questions regarding any topic and will give you an answer with a human response or like. What if you needed a piece of love advice? Can this app give you one? Well, you can have a human-like conversation with it once you have downloaded it on your Android and iOS.
Is the app supported on another platform? Aside from the other mobile devices, you can also download this GPT-3 chatbot on your Mac, Web, and Apple Watch for free. But if you want to use the full feature of this app non-stop, purchasing it is the best option. Once it ends the subscription, the app will automatically deduct the sum of the plan of your choice to be re-subscribed on the app with the same plan. Compatible and easy to use, this app proves that you can have a virtual AI assistant on your phone when you have an app like this.
Part 2. 5 Amazing Features of Nova - ChatGPT-powered Chatbot
1. Accuracy on Answers
Tasas 7.5 de 10
While using it, the accuracy of this chat GPT AI chatbot on our question is what we expected. However, when you ask for its political or controversial views, the app will not generate an answer since it is only built to help and provide an informative answer, not opinions, preferences, and biases. This app will answer your questions if you ask for informative tips and information guides. Need a recipe for a particular dish? You can ask this to give an accurate answer with the correct measurement.
2. AI Copywriting & Content Writing
Tasas 8 de 10
This app can assist whenever you need to create content that sounds catchy for your ads on a sales pitch or script for video ads. With its powerful AI copywriter, the app will give the best script and things to say on whatever you need with the help of its Chat GPT and GPT-3. Want to go into much more professional writing, such as blog posts, articles, and social media posts? Well, this app now uses the latest GPT-4 to generate the best marketing content you can post immediately with proper grammar and length on your website.
3. Revisión
Tasas 8 de 10
Want to know if your writing works have plagiarism and if it needs to fix an improper delivery of sentences? This AI chatbot chatGPT will give you the aid you need. Most professional applications you can use for proofreading cost a fortune, but with this app's free version, you can now upload and let the AI do the work. It can even give you suggestions that you can add to improve your already made write-up before you pass it or upload it on the web. For mistake-free content, better use this app as it analyzes it more deeply than we can do.
4. Compatibility and User Interface
Tasas 9 de 10
Whatever device you have, you can access this throughout. There is little to explain its compatibility, but the UI of the app is incredibly simple, and anyone who uses this right now can understand how it works. Unlike other applications that support GPT, this app is the best in UI, even though you have used it on different devices. However, you can't download the app on Windows PC because it is not supported. That is why you need to use its web version to access it.
5. Human-like Response
Tasas 7.5 de 10
Even though the app delivers a great message, it may seem that you are talking to someone knowledgeable when using it. The app can't analyze expressions and human emotions like what it made a human. It isn't new knowledge found since the app is automated, which means it already has the answer to your question, and any emotions can't change the answer it will provide.
Part 3. Best Nova - ChatGPT powered Chatbot Alternatives You Can Download
1. Pregunte a AI: chatee con GPT Chatbot
Pregunte a AI: chatee con GPT Chatbot is a revolutionized AI chatbot chat GPT application that offers a personalized conversational response to the user's queries. Still, it is informative enough to learn something new. So if you want a human-like response to your queries, this is the perfect app for you since it has a built-in NLP technology like the app we reviewed and an Open AI GPT. On its chat interface, you can input queries and instantly converse with the app.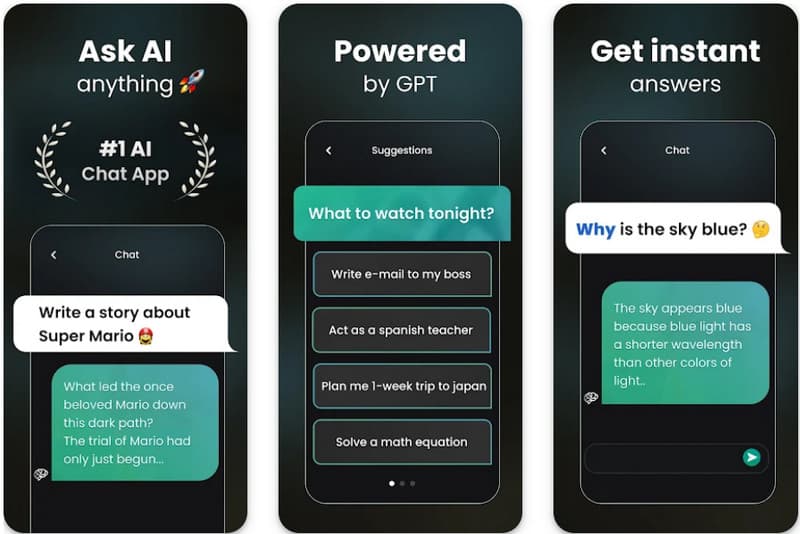 Whenever you need a newer perspective on your topic, this can generate the information you need to improve the topic you are about to write about and even create a newer one whenever you ask it. Aside from being able to download on PlayStore, the app offers an iOS version for you to use. They are functional for answering your inquiries accurately when discussing the latest event, entertainment, facts, etc.
2. Ai Chat - GPT Chat Bot 4+
Want to have a classic conversation with an AI chatbot chatGPT using your iPad or iPhone? Download the Ai Chat - GPT Chat Bot 4+ on your AppStore if you want to. Its chat interface is similar to what you can get on another messaging app you are familiar with. Like other applications, the app is trained and can use the same language model created by OpenAI to give you the human-like response possible.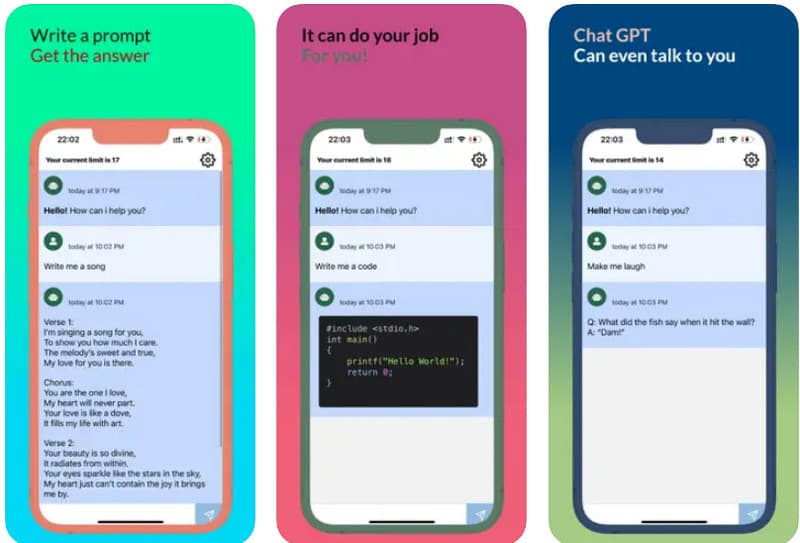 Every time you use this app, it adapts and improves its answer to all your queries. When you ask it, the app is knowledgeable enough to answer it since it has already been trained and accumulates large data sets to cover millions of possible topics you might ask. In the recent app update, the developer added a ChatGPT subscription, which means you must purchase the app to use it continually.
3. AI Chat: Apo Assistant Chatbot
Need to write content but don't know where to start? Well, you can use this chatbot GPT app on your Android to help you on your writing quest. Its name is Chat con IA: Chatbot asistente de Apo. This app gives you more than informative ideas since it can create your write-up. With it, you can start summarizing a topic whenever needed and explain such things with different writing styles. If you need to debug and write code, then you can utilize this app, and it can even easily extract data from the composition of the text.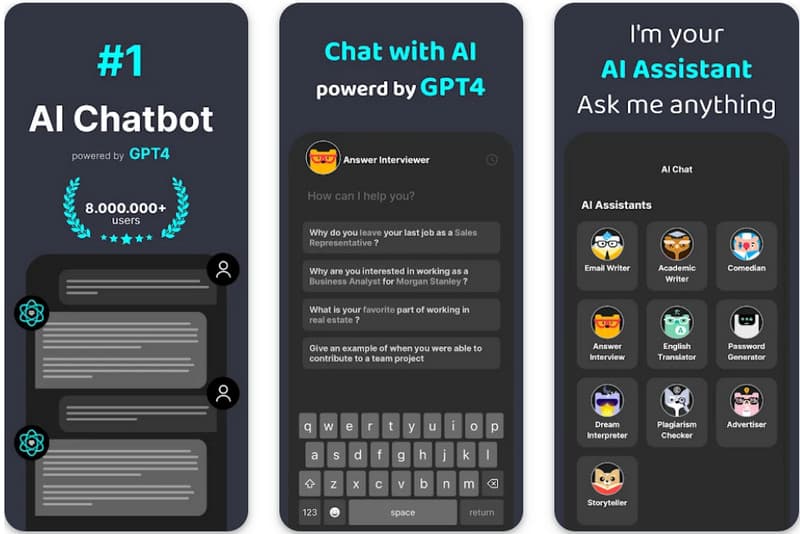 Need some fresh and unique ideas for your business? Indeed, that is important, and you can ask for the help of this app. Doesn't know the answers to some questions about your assignment? No need to worry because this app is knowledgeable enough to answer that. Thus, the app needed to be purchased because the free version lacks features only available on the pro version.
Parte 4. Preguntas frecuentes sobre Nova - Chat Chatbot con tecnología GPT
Who owns Chatbot GPT?
OpenAI created the ChatGPT that we currently use in most of our daily lives. It was released in November of 2022, and now this AI is continually adapting to the advances since it released the latest GPT-4 was March 13, 2023.
Is Nova ChatGPT available on Windows?
No, the Nova ChatGPT can't be downloaded on Windows PC, but you can use the web version of the app using your web browser downloaded on your Windows PC.
Can I interact with Nova ChatGPT thru voice?
Instead of typing, you can click and hold the microphone button and say whatever you want to ask the app. Yes, the app supports voice search once you have activated it.
Conclusión
Nova ChatGPT has already received 4.6 stars, and most of the reviews you can read on the PlayStore are good, which makes the app reliable. Through this review, we have explained the app overview, and we hope this article helps you understand more about this chat GPT AI chatbot.

Deja tu comentario y únete a nuestra discusión