Chat with Strangers Anonymously on Different Websites One-on-One [Video & Text]
Are you bored today? Many of us love to lie on our couch or bed and wonder if talking with someone is possible. With the technological advancement that happened to the world, you can now easily talk to random people all around the globe with the help of different websites. But which one is the best to connect with people easily? You can read the following details below as we discuss the best chat with-strangers websites you can use for free.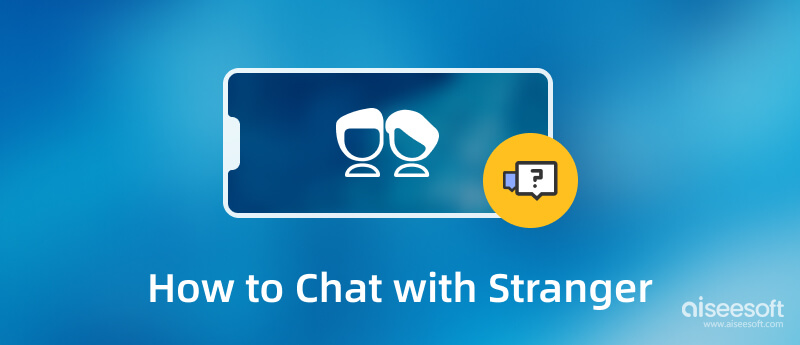 Part 1. 5 Best Websites to Chat with Strangers Online
1. Omegle
When you want to video chat with strangers, Omegle is one of the best websites that offer that service. Here, you can set your interest so the program will match you with a user with the same interest as yours. You can add as many as you want to be interested in here. Chatting and video calls randomly are supported as well. Yet, there are times that the website will ban you because of regulating the terms and agreements it has set. Luckily, the ban here isn't permanent, so you can now use it again after it has been lifted, and if you want to record Omegle video calls, you can use a screen recorder.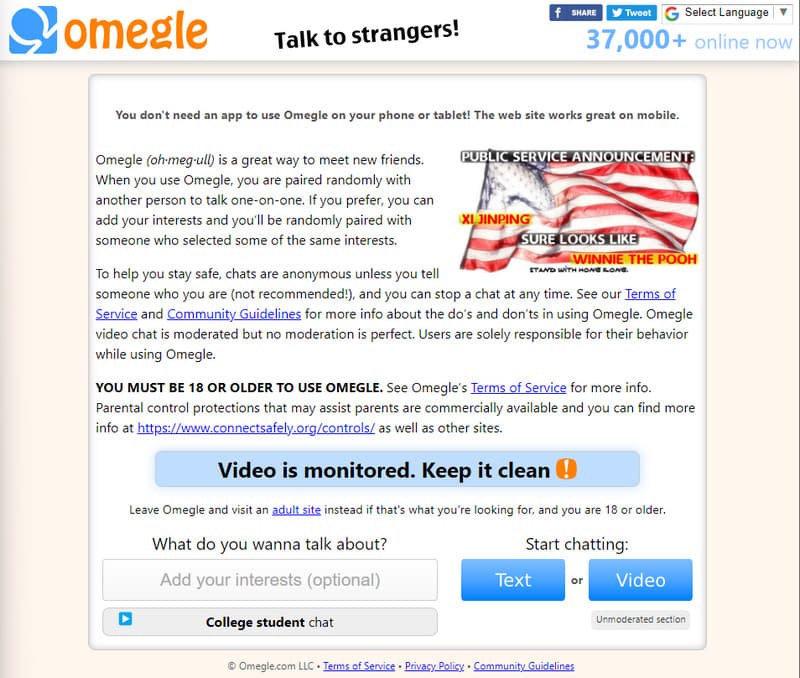 Paso 1:
Open the Omegle website using your web browser.
Paso 2:
Input all the interests you want so that the system matches you to them.
Paso 3:
Click whether you want to start
texto
or
Video
then the system will randomly find someone with a common interest like yours.
2. ChatBlink
ChatBlink chat with random strangers is much more restricted, and you will need an account before using it. You can use your email here or create a new email address since the website requires it. Unlike the first one, you can enter a chatroom here and connect with a broad audience all at the same time, or you can do it privately if you want to, and while chatting, you can also request an image of them if you want to. However, the app doesn't have video calls, limiting the experience only to chatting.
Paso 1:
Visit ChatBlink and create an account here. Hit SignUp after filling in the necessary information.
Paso 2:
Enter a chatroom to chat with random people in that room.
3. ChatKi
chatki allows its users to have a free video chat with strangers. When you visit the app on the main website, you will see its build is simple. You wouldn't need an account before you can start using it. What you only need to do to use it is that you will need to set your gender and interest if you want to. But remember that before you can use this, you must have a webcam or camera and speaker to hear and see them. Even though the app is free, some youngsters can easily access this website since it doesn't ask for age.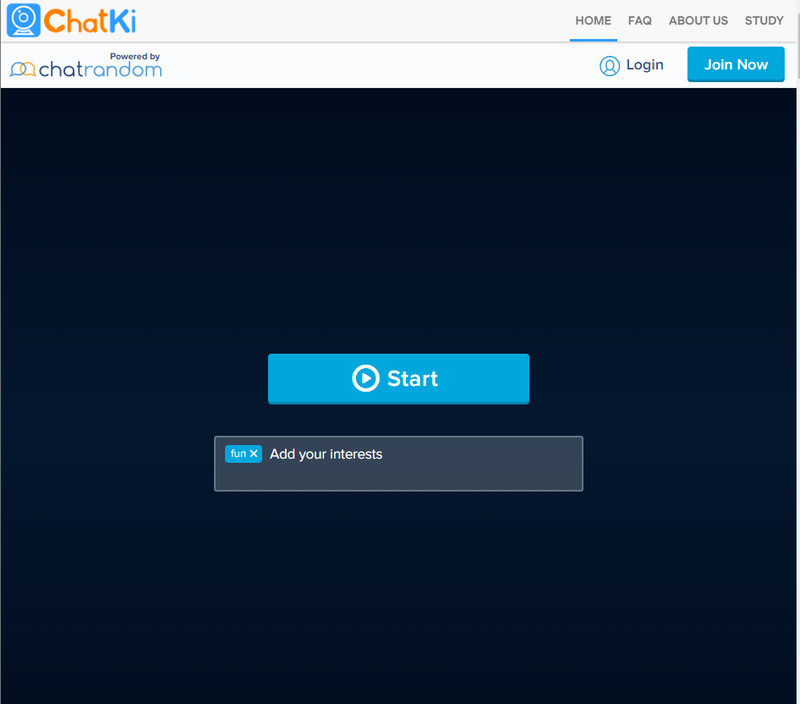 Paso 1:
To access it, you will need to search it over the web browser you have.
Paso 2:
Select your gender and hit
Add Your Interest
to make a specific request for who you want to be matched with. Accept the terms and agreement to proceed.
Paso 3:
Then, the application will automatically search for a compatible match based on the interest you have set.
4. camgo
Camgo is another online video chat with stranger website that you can visit to flirt with them whenever you want to. No account is needed when accessing its official website on your device. Here, you can chat with other users or video calls them. The website also offers an unrestricted section wherein only adults can access it. When you are about to try accessing it, a term and agreement will appear. Other than that, there are no other ways to know if an adult uses it.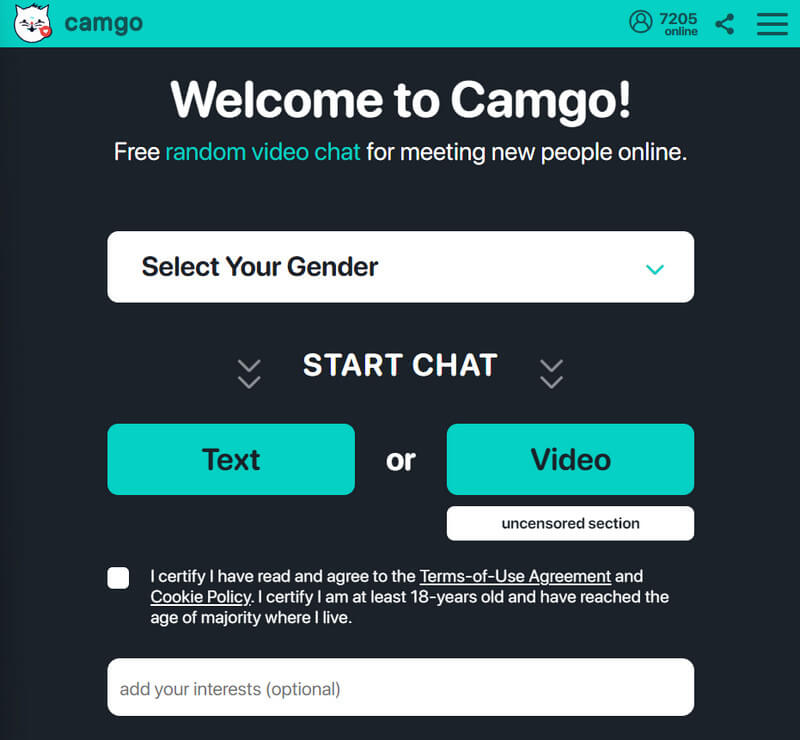 Paso 1:
Open a new tab, type in Camgo, and hit
Enviar
Para ver el resultado.
Paso 2:
Add your gender, type in the interest based on your preference, and agree to the Terms and Agreements and Cookie Policy.
Paso 3:
Hit whether you want to
texto
o tener un
Video
call with a random stranger.
5. Shaggle
Shaggle is the last on the list of the best website to chat with strangers. Unlike the other website, the program will automatically connect with a random stranger after you have set the gender, agreed with the terms, and hit the start chatting. Though it randomly selects your chatmate, there is still a disadvantage to the accessible version of it. Once you have purchased its premium version, you can do more and connect with a specific audience easily. Thus, you will need an account and money to purchase it.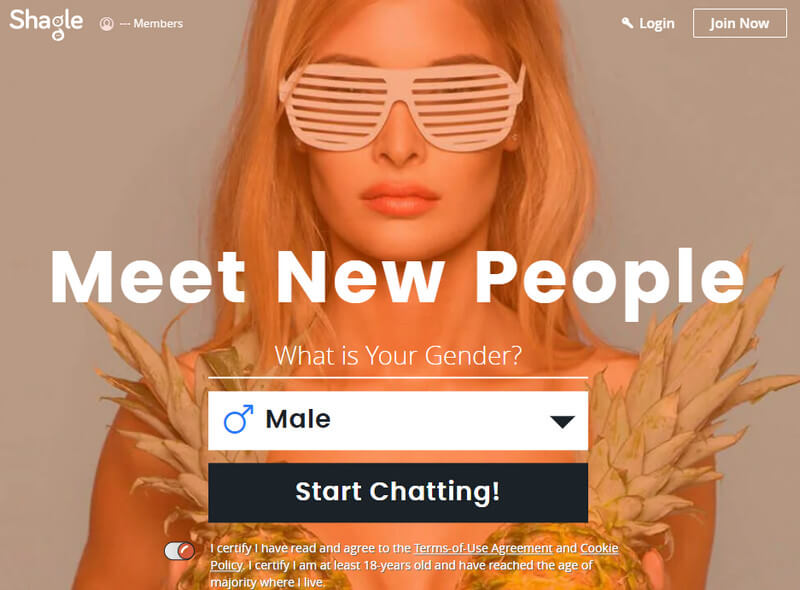 Paso 1:
Visit the official webpage of Shaggle and fill in your Gender and accept the terms.
Paso 2:
Once you have done that, click
Empezar a chatear
, connecting you with strangers.
Part 2. 5 Great Apps to Talk to Strangers on Android and iOS
1. Chatmet
Chatmet is an Android video chat with a stranger app you can download on your mobile device. It has an online version, but we will discuss its mobile version today. Like the other application you can use to connect with others, you can use this app to do a multiplayer video and voice chat with other random users anytime and anywhere. You can play interactive games in the party room in this app. Plus, you can open a Live room and PK your friends. This app is not only for chatting, but you can also earn real money here.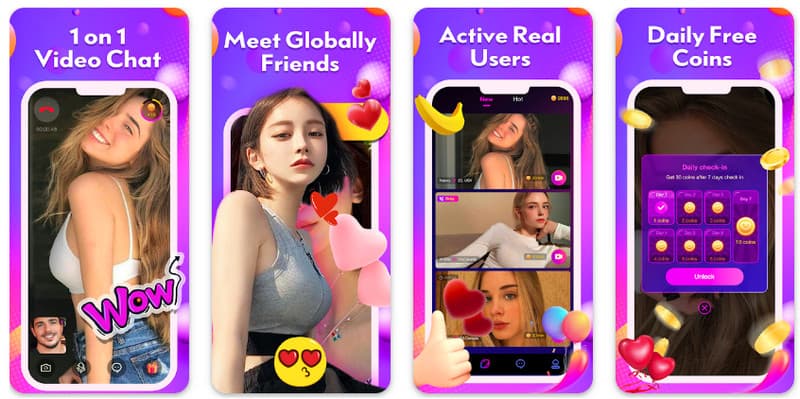 2. RandoChat
RandoChat is one of the most secure chats with strangers apps you can install. With over 10 million downloads, it seems impossible not to match with other users instantly. Thus, you can't make a video or voice call when you use it, but you can send images thru the app. Ensure that you don't send inappropriate image content because when the regulator of the app catches you, it will permanently ban your account.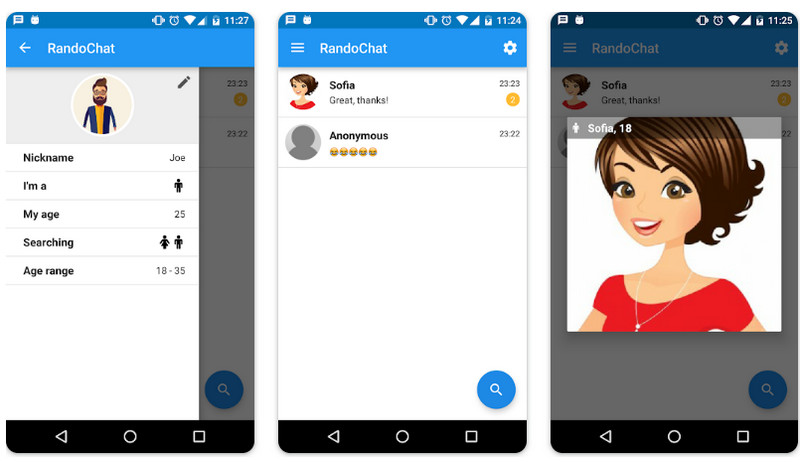 3. Lit match - Make New Friends
Want to connect with more people and become their friends? You can download and start using LitMatch - Make New Friends. Here, you can connect with other people in real-time via texting, voice calls, and even party chat calls whenever you want to join in or create one. Since the app needs you to create an account, you also need to set an avatar of yourself as a profile pic on the account you have created. In addition to that, you can also send gifts to other people by purchasing them with diamonds.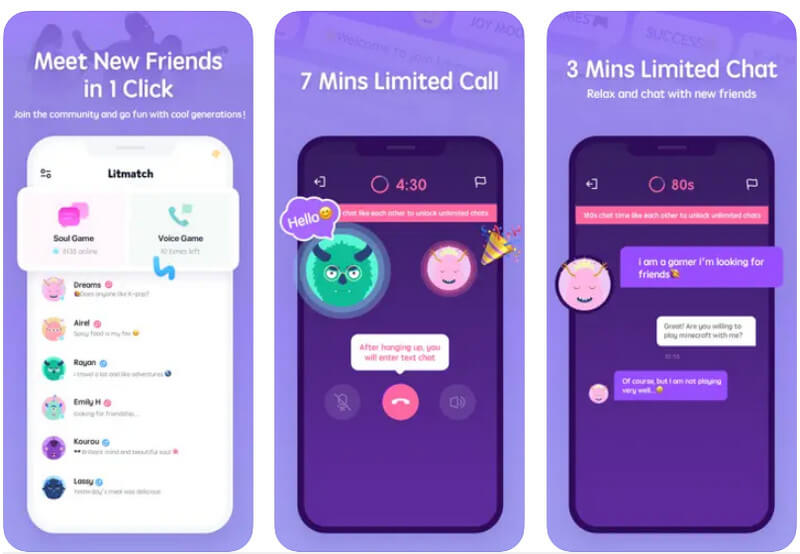 4. OmeTV - Video Chat Alternative
Another video chat strangers app you can download on your mobile device is OmeTV. Thru this app, you can meet up digitally with millions of users anytime you open it. Unlike unrestricted websites, this app has a moderator that responds to users' complaints whenever they have any. Even with a moderator, the app doesn't read messages or interfere with ongoing calls because it respects your privacy. So, if you want to have a quick video chat with other people, download this now on your device.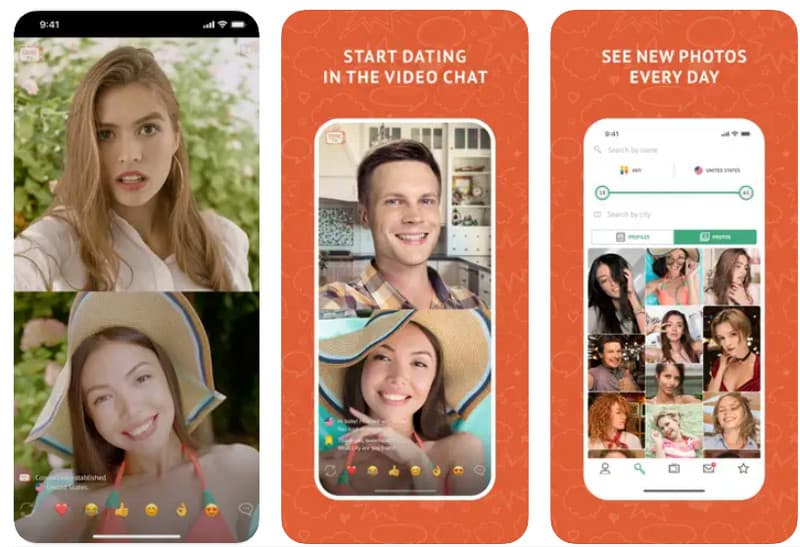 5. Holla - Live Random Video Chat
Holla means hello in Spanish, but with this app, you can say hello to the world. It is a random video chat switch stanger app that you can use to connect with over 190 countries, experience their unique culture, and befriend them. Everything you can do here is accessible, live chat, voice chat, text chat, and real-time translation. Meet all of the people that have used this app and connect with them instantly with this app.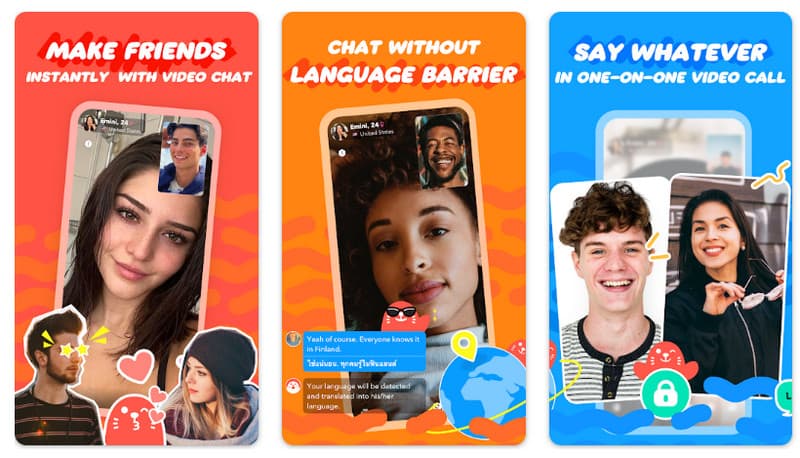 Part 3. 3 Things You Should Know When Chatting with Strangers
1. Hacker Can Track Your Location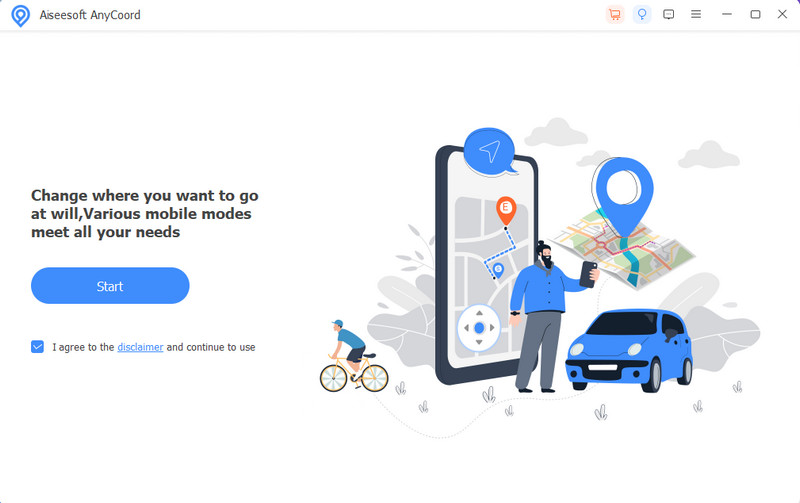 A hacker can easily track where the message came from thru their app or device. Even though you don't open your GPS or location, tracking a person for them is quick, and you can prevent someone from tracking you by creating a fake GPF location on your device. Aiseesoft AnyCoord is an application you can install on your desktop and connect to your iOS device. With it, you can create false coordination easily to trick hackers or anyone who wants to bypass your location.
2. Don't Give Your Private Information to Strangers
Never forget that some strangers might look like an angel on their profile or talk like an angel, but their intentions aren't what you might not expect. Some will ask for your credit card information, address, phone number, and anything personal to use for their gain. If a stranger asks you this information, leave them alone and never chat with them. Don't be deceived by them so that you wouldn't regret it in the long term.
3. Don't Send Private Pictures over the App
Exploiting private photos by strangers is a common mistake of people who quickly fall in love with a stranger. Only some people who use the talk with stranger app have good intentions with you. Some will ask for a private photo of yours and use that as blackmail to you. Better keep that up to everyone to avoid this circumstance. Also, in the moderator review, you have made some instances of chats with strangers.
Part 4. FAQs on How to Chat With Strangers
What is the joint statement when chatting with strangers?
According to research, most people's opening statement is "ASL, " meaning age, sex, and location. It is a question to know how old that person is, the gender of that stranger, and their location to see if you and the stranger are nearby.
How to start a conversation with strangers?
You can start by saying "Hey," "Hi," and "Hello" has been used by millions of people, so if you want to create a better impression, the word "Hey" will do the trick. You can use your style if you have other ideas for opening a statement.
What is the best messaging app on Android?
Well, you can stick to using the old-fashion Message app that is pre-installed on your device. But you can't use that if you don't have a sim card and the number of the person you want to talk to. You will need better if a traditional text message isn't what you think. Use the free messenger for Android en el mercado.
Conclusión
How to chat with a stranger? If that is your problem, here are the solutions you can use. We hope that this article accommodates you on how to do it quickly. If you have questions regarding this topic, you can mention them in the comment section below, and we assure you that you will get a response quickly.

Deja tu comentario y únete a nuestra discusión