AI Chatbot Review about the Apo Assistant Chatbot & Best Alternatives
AI Chat: Apo Assistant Chatbot has been at the top of the store's most downloadable Chat de AI app. With over five million downloads and over 55k reviews on PlayStore, we have decided to review this app. Personal assistant needs? Well, this app will cover that needs of yours. Isn't the app excellent? For the users who love to use AI tech and decided to know more about this app, then you can read this blog we did for the app, and it also contains alternatives that you can use that work the same as the app, and some are better than others.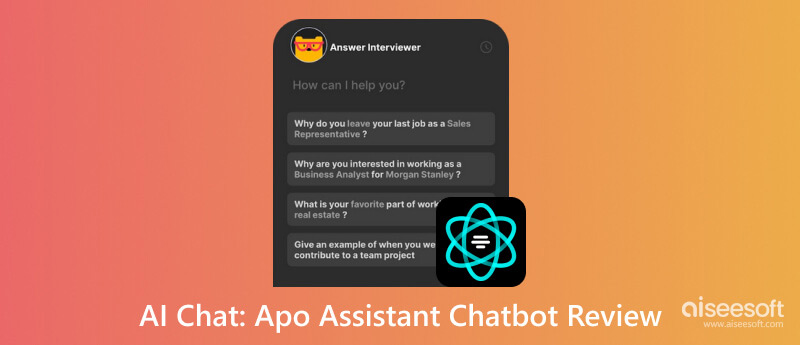 Part 1. A Quick Overview What is AI Chat: Apo Assistant Chatbot App
AI Chat: Apo Assistant Chatbot can generate text based on the personal assistance feature you have set in this AI chatbot. Like other apps, the app can give you a real-time answer quickly and give you diverse sorts of replies, such as direct answers, recommendations, and search results. With the app's intelligence, it can even give a newer response based on what it can remember during your searches. It uses machine learning and natural language algorithms, which makes searching for the answer with this app even better. Plus, the app can adapt and reference your previous queries and analyze them for you so that when you use it again, it will generate an even better answer.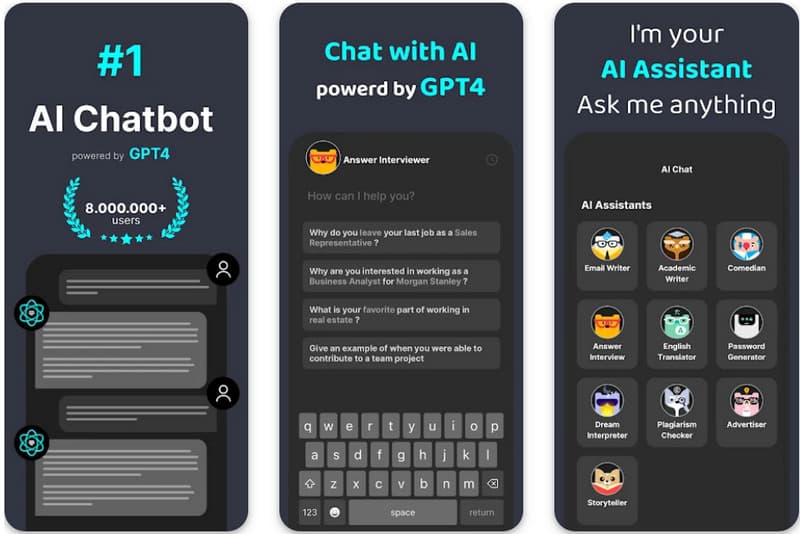 Most chatbots don't have the power to adapt to the user's search, which is why this app became unique. In simple terms, the app uses AI technology to deliver the answers and an AI algorithm to give you the best answer possible to your question added here. However, there are times that the app fails to give you the best answers since it is still based on a machine learning algorithm. Since there are also millions of users this app accommodates daily, there are times that you wouldn't be able to use the app due to the overload. With that being said, you will often experience crashes even if you purchase a plan here.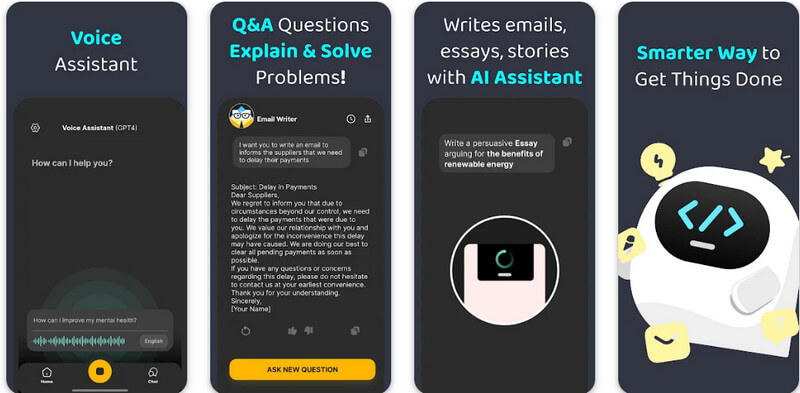 Overall, the app is considered an artificial intelligence chatbot that is reliable in answering your frequently asked questions. As you continue using it, the app will tailor your preferences and give you an even more straightforward answer than what you could get before. So, if you want a personalized, real-time assistant, pick this application over its competitor since you can have it all here.
Part 2. Why Should You Pick the AI Chat: Apo Assistant Chatbot with Ratings
1. Answers Accuracy
Tasas 7.5 de 10
The answer provided is manufactured on this open AI chatbot based on the large amount of data gathered on the web. Sometimes, the app wouldn't be able to give you the answer you are looking for, but as long as you continue to use it, it will answer your queries more accurately. If your question isn't based on human perceptions or outlook, the app will generate the best answer with excellent quality on data it already generated.
2. Preferencias personalizadas
Tasas 8 de 10
The app has built-in adaptive skills, which means every time you ask the same question, the app will generate an even better answer. That said, if you continue to use the app, it will improve answering the questions without manually changing the settings or making personalized preferences. It is a fantastic feature you can access on the app that others don't support.
3. Speed in Delivering Answers to the Querries
Tasas 7 de 10
Since this free AI chat is open to all mobile users, the developer improves the quick response, which means all of your inquiries here the answers will be delivered in a matter of seconds or minutes. On the other hand, the complexity of the question can impact how long the answer will be generated. If the question you have added here requires further analysis, the response time may also be longer. Plus, if more people use this app simultaneously, the server has difficulty generating the answers, so the AI takes time, making its response longer.
4. Accesibilidad y Disponibilidad
Tasas 8 de 10
You can now download this application on your Android 5.0 and later version for free, but you can't have it on iOS since the version of this app isn't supported on the said other devices. Smart Widgets Labs Co Ltd. caters to multiple beneficial applications, mainly for Android users like this one. So, if you want to use this application, you better have an Android device in your hand, and you can now download this virtual assistant.
5. Fácil de usar
Tasas 9 de 10
Definitely! The app isn't complex to use; even the question you might add is complex. The developer makes the app easy to use so that new users who don't know about chatbots can manage to use this app. So, if you are a new user looking for an app offering AI assistance, downloading this could be the perfect option.
Part 3. 3 of the Best AI Chat: Apo Assistant Chatbot Apps Alternatives to Use
1. Chatea con Ask AI
Chat with Ask AI is the number one productivity app you can download on iOS since it offers an enhanced chatbot experience you couldn't get on its competitor. Ask any question about anything with this app; it will generate the best answer you can't think of. If you need professional assistance with the book you are writing, want to read some Dad jokes, fix codes, math equations, language practice, and more, then download this app.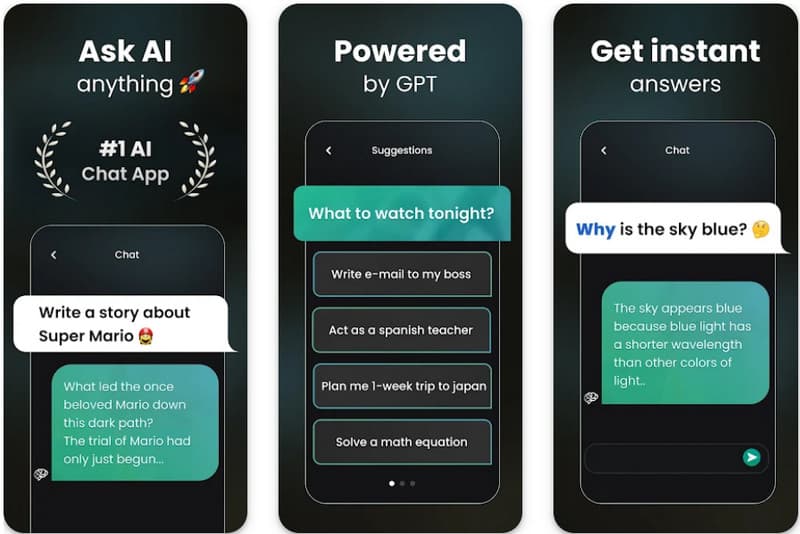 No subscription is needed to continue using it, but you can purchase a plan this app supports. What if you aren't an iOS user but still want to use the app? Then you can download the other version of the app on Android. It is also a top 1 free AI chat you can search on Playstore.
2. Muchos Chat
If you need a chatbot AI with strength in automation messaging, then ManyChat might be the right fit. This application has already proven itself on many Android users since it can generate an automatic repose into the customers, which means the app can also be used for your business. You can also use this app and sync all of the channel's sales, even on different messaging platforms. Plus, you can even edit your automation directly on the app and assign it to other people so that they can experience the best response. Despite being a reliable application, some users need help since it needs to be set up. But the chat support of the app quickly responds to your queries on the Play Store whenever you encounter a problem.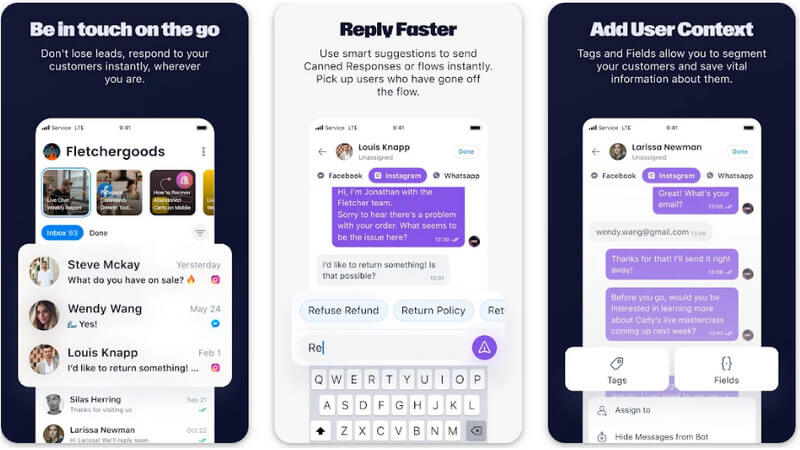 3. MobileMonkey Chat
Another application you can use for managing answers online for your business is the Chat de MobileMonkey. It has the same features as the ManyChat, and now you can even use the features it provides, like splitting and tagging users whenever you like to do it. Since it is an AI-based automation app, all of the answers it will give the user is based on the data you are about to input here. When the app receives a new update about the hot leads active on your website, the app will alert its primary user so that they can identify and monitor what is the frequently asked question on the website. If you want an interactive, conversational, and personalized AI chatbot GPT at your end, this is the best option.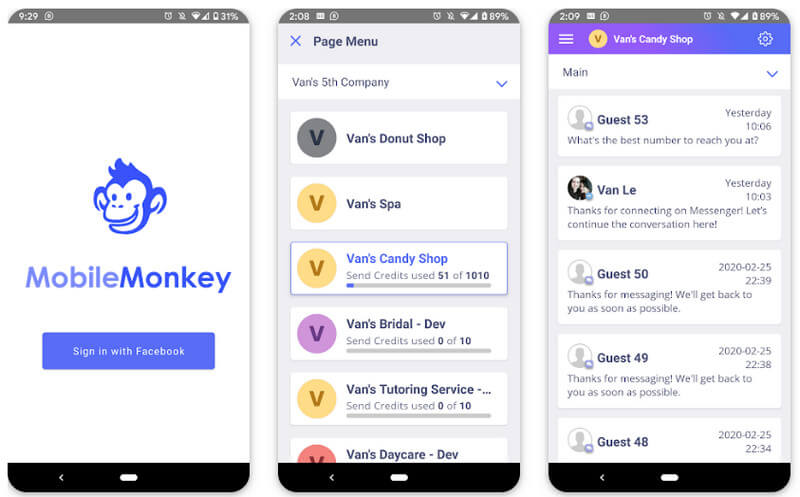 Part 4. FAQs about the Nova - Chat GPT-powered Chatbot
Can I use Apo Assistant Chatbot for my website?
Sadly the app doesn't support that feature, but you can use alternative AI chat GPT apps such as ManyChat and MobileMonkey Chat. These are the most used AI bot app for your websites. For casual inquiries, Apo Assistant Chatbot is one of the best apps to use, and it can even suggest and give you the best answers to that questions.
Does Apo Assistant Chatbot support iOS devices?
Currently, the Apo Assistant Chatbot is only limited to Android mobile users making its compatibility and accessibility with other devices problematic. It means you will need an app that can be downloaded on iOS since this application isn't supported. Based on performance and quality work, Chat with Ask AI is the best AI chatbot app on the market, and it remains the leading app on Appstore for AI assistance needs.
What is the best feature of the Apo Assistant Chatbot?
Apo Assistant Chatbot offers personalized preferences, which means the app can remember all of your past queries with it, and day by day, the answer that you will get to the same question becomes more detailed and even better.
Conclusión
Now that we have a complete idea about the Apo Assistant Chatbot app, you can think about whether to download it based on our review of this Chat de AI app. If you feel that the app is lacking in some areas, it is true because there are no perfect applications. In that case, you better select the alternative apps we have added here to download.

Deja tu comentario y únete a nuestra discusión