Bing Chat Complete Review & Its Best Alternatives to Use [Android & iOS]
In the AI world, charla de bing is gaining popularity as an excellent alternative to other apps you can download on your phone. It features a competitive AI tool that can help and use as a research assistant, planner, creative planner, buddy, and more. Thanks to the app's artificial intelligence, you can now do many things here at the expense of your phone. Did you find this app interesting to use? This app is an excellent pick for those needing an AI assistant. That is why we are going to review the app for you. Keep reading this article to have a broader idea of what this app is capable of, how to use it, its features, alternatives, and many more.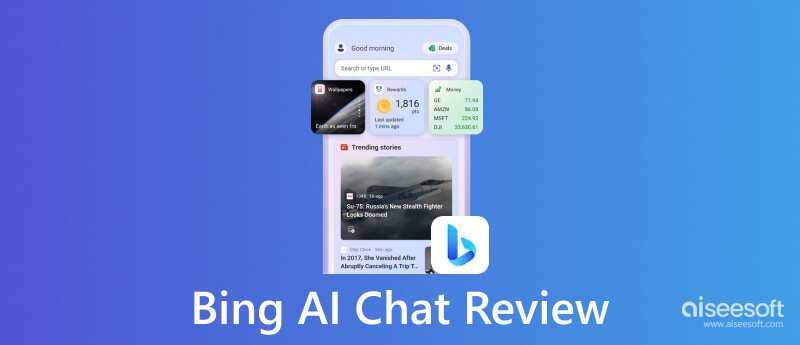 Part 1. What is Bing Chat - Know What Bing is: Chat with AI & GPT-4
Bing: Chat with AI & GPT-4 is a great new Bing app that you can download for free on your smartphone. It offers reliable and up-to-date information in an easy-to-understand format, making it a great alternative to traditional web browsing. This app is different from others as it can comprehend complex search queries that might be hard to understand for other AI programs.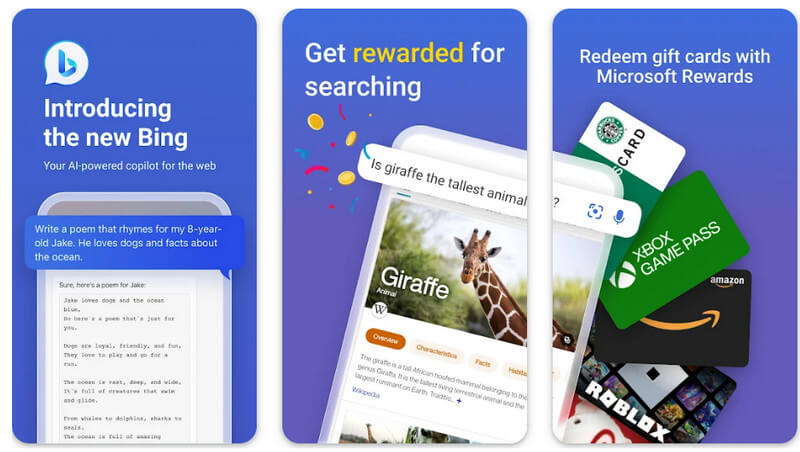 One of the best things about this app is that if you don't understand the answer you receive, you can ask for a follow-up explanation that simplifies things or explores alternative options. Thanks to its latest technology, you can get all your answers in less than seconds, and it can consolidate information from different websites. Arent you tech-savvy? Then this app is highly user-friendly and will surely be a useful tool for anyone who wants quick and easy access to information.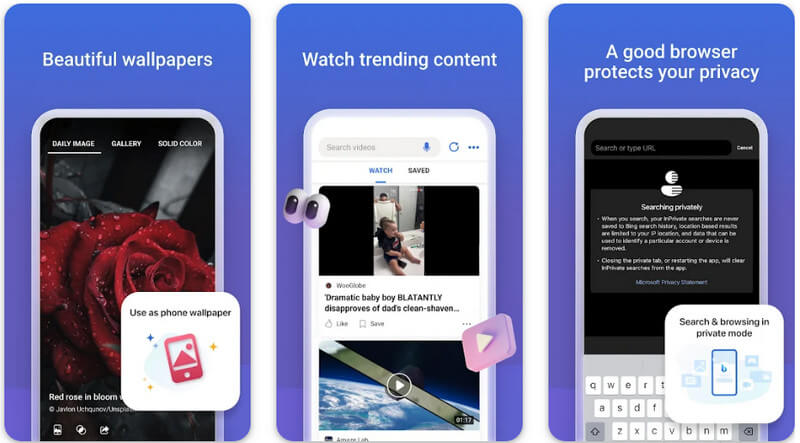 The new Bing AI search engine has become faster, yet its answers are accurate and better than its previous version. The OpenAI language model is the most used, so the app adapted it and added this for a customized search. With this app, you can explore the entire web like never before. So why not give it a try? Type in the question and let Bing answer your request.
Part 2. How to Use Bing Chat - Complete Ways on How to Use Bing: Chat with AI & GPT-4
The Bing: Chat with AI & GPT-4 information would be complete if we included a tutorial on how to use it. For the new users who don't know how this Bing chatbot works, you can follow the complete tutorial we have added here.
Paso 1:
Download now the application on your certified store pre-installed on Android or iOS.
Paso 2:
Open the application, and it will lead you to the home section.
Paso 3:
Tap the chat icon at the bottom of your screen and type your search query or question in the chatbox. You can also click the microphone icon if you dislike typing in the question.
Paso 4:
After that, click the search icon, and if the answer it provides is too broad, you can ask it to make the answer clear or precise.
Part 3. 5 Best Features of Bing: Chat with AI & GPT-4 You Must Know
1. Búsqueda por voz
Instead of typing in the question or query that you want to ask in this Bing AI chat, you can now simply hold and tap the microphone button and say the question you want to ask here. With this feature, you wouldn't need to tap the letters on the keyboard screen, which is very convenient.
2. Follow-up Questions
Didn't understand the answer that the app says? You can re-ask it by typing to simplify the information, or can you give me other options? This way, the app will generate the answer to your previous question and make the answer similar to the topic.
3. Redeem Rewards
Bing's new AI allows you to redeem a gift card that Microsoft Rewards support. It has a bunch of gift cards you can choose from, and this is a great addition that can surely attract more users to use this app than other AI tools don't have.
4. Creative Writing Assistance
Do you need to create original writing? Or do you want assistance from the content you've already created? The app can do both; suggest what is needed to improve and create the content from your question.
5. Search & Browsing in Private Mode
Since Bing is a search engine on Microsoft, it is only natural to add a browsing-like experience when using this app. Through this application, you can do a safe search, meaning once you have searched for information or content on the web, the history wouldn't save here.
Part 4. Bing Chat vs. ChatGPT - Quick Comparison Between These AI Chat Apps
Bing Chat vs. ChatGPT has been a popular question on the entire web, so we are here to compare and contrast the apps' features and overall AI functionality. If you want the information, we have added it below.
Similarities of Bing Chat & ChatGPT:
Both use AI to respond to all user's queries and questions.
The design of both devices is the best compared to their alternatives or competitors.
Similarities of Bing Chat vs. ChatGPT:
BingChat is only integrated with Microsoft, but ChatGPT is with various systems and apps.
ChatGPT is a text generator and multi-step reasoning, while Bing is Task-oriented.
BingChat widely supports languages wherein the ChatGPT can understand and generate text scores, including low-resource ones.
Part 5. 3 of the Best Bing Chat Alternatives You Can Download on Android & iOS
1. Pregunte a AI: chatee con GPT Chatbot
Pregunte a AI: chatee con GPT Chatbot is a premium and new Bing AI alternative you can use and work on your Android phone. It is an app that became a top-notch AI tool because it can understand complicated user searches and deliver the answer to the question faster. The prowess of giving accurate and relevant answers to queries or questions became why 10m+ users had already downloaded the app. The version of it on iOS has a 70.1k rating, and it is currently number one in productivity.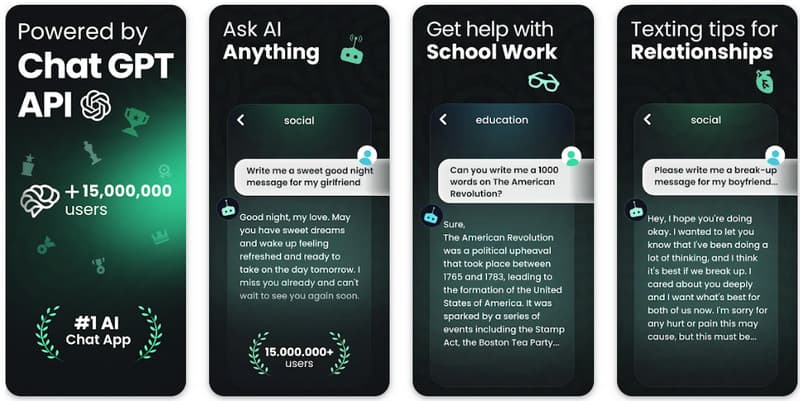 2. ChatOn - AI Chat Bot Assistant
ChatOn - AI Chat Bot Assistant is similar to the first tool since it has a smart AI application that can quickly answer the most frequently asked questions. Despite being a new app, there have been 500k+ users who downloaded the app on their Android. With this app, you can use Any Task Helper, which helps the app to determine what problem is needed to be solved, answered, or assistance needs. Plus, it has text recognition, allowing you to snap a book, and the AI will analyze it for you. Since this new AI Bing alternative is new, many things need to be improved here, like the performance and stability of the app.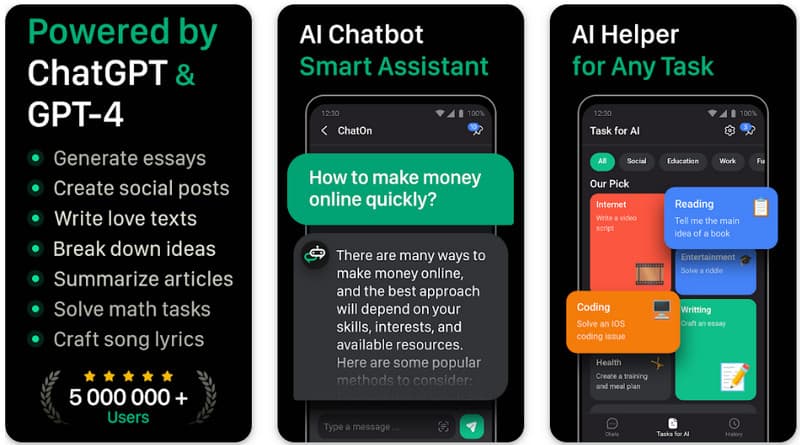 3. AI Chatbot 4+
AI Chatbot 4+ is a simple interface AI messaging application like Ask AI. What do we mean by that? When you start chatting with this app, you can notice that the app's interface is similar to what you can get with the default messaging app on your phone, so you will not find any difficulty using it. The app gives you positive and creative ideas whenever you ask the app to give you for writing content. Even if the version is free, you might need to purchase an in-app purchase of it to use the best version of this AI tool.
Part 6. FAQs about the Bing: Chat with AI & GPT-4
Is Bing Chat app on Android free?
Yes, Bing: Chat with AI & GPT-4 is a free AI tool to download on your Android device. The app doesn't support additional payment for you to use since it is free.
Can I download the Bing Chat app on iOS?
Bing - Your AI Copilot 17+ is the iOS version of Bing: Chat with AI & GPT-4, so it means Microsoft Corporation also created an iOS version for the iOS user who wants to experience this AI tool first-hand.
Can I do a voice search with Bing AI Chat?
Yes, this application supports a voice search, meaning you don't need to type in what you want to search. Just click the microphone button, and you can now say what you want to search for.
Conclusión
Isn't Bing AI chat amazing? Well, there is more that we haven't mentioned this Chat de AI has to offer that you might want to try. We hope all the information we added here gives you a glimpse of the app's potential. Try it, and if it isn't your forte, try using the alternative starting from 1.

Deja tu comentario y únete a nuestra discusión