What Happens When iPhone Storage is Full- How to Manage Files and Free Up More Space
Although smartphones nowadays have as large storage space as 1TB, they will eventually be filled up with all sorts of files, photos, data, updates, etc. So, what will you do when your el almacenamiento del iPhone está lleno? Whether you have an old or new iPhone, it will get full storage when you keep large photos and videos or download many files. One solution for this inevitable event is to upgrade your iPhone and buy a new one with more storage or subscribe to the iCloud service for more cloud storage, but it will save you more money when you clean up your device. While deciding, you can read this post and see solutions that will benefit you.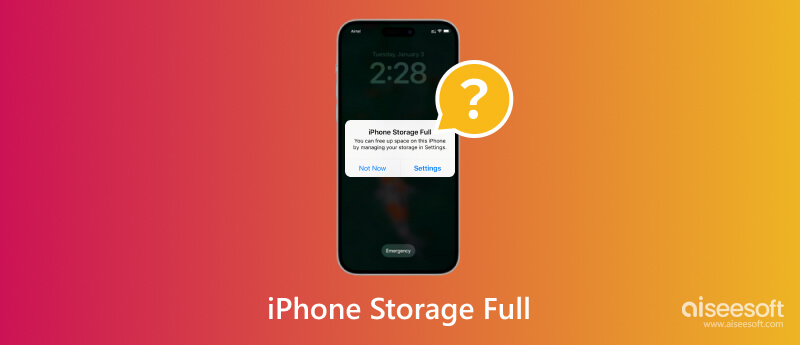 Part 1. What Happens When iPhone Storage is Full
If you disregard the "low storage space" notification, there is a chance your device will be reactive with full storage. You can visit the App Store and download an app, but your device will not install it at all. The iCloud Photo Library will also struggle to sync incoming files. Furthermore, your device's performance is noticeably slow when opening the apps or browsing online due to the cluttered space.
Meanwhile, iOS will keep reminding you of your almost full iPhone storage, and it is hard to get rid of it until you start to clean it up. Under such circumstances, Here are some warnings that are common for full storage on iPhones:
iPhone Storage Almost Full- The phone is running low on storage space. It is suggested to uninstall some apps, delete duplicated photos, or use iCloud to free up more space.
iPhone Storage Full- No more space is available for the incoming files. This will be the reason for failing to move on with further app installations, taking photos on the Camera app, and so on. Your device will also be unable to delete cache, data, and system files.
App Storage Almost Full- This will be the notification when a particular app has reached the storage limit. You can use the Offload App feature to clean the app cache.
Part 2. Why is iPhone Storage Full When I Have iCloud
iCloud is the extended storage space of an iPhone for photos, contacts, messages, videos, and more. But why is the phone still full even with a cloud service? The major reason is that iCloud backs up phone data, such as images, videos, and app data, but it won't directly delete these local files on your iPhone. Other files it stores can be system files and cached data, which take up much space on your phone. So, the iCloud service works like an external storage for your iPhone but doesn't naturally affect your internal storage.
Some iOS users suggest using optimization features, but even with these, the result is almost the same as having low enough space. This is because your device might not be up for more data, or in other term, it lacks on-device storage. Also, remember that iCloud is meant to back up all files on your phone and is not made to offload content from your iPhone to free up more space. So, you can delete unused apps and other files to keep the storage space in good condition. Check out the following part for various solutions.
Part 3. What to Do When iPhone Storage is Full
After you have determined why your iPhone storage is full, the next thing you will do is declutter the storage to liberar más espacio. See the three practical solutions with easy steps to follow.
The Default Way to Clean iPhone Storage Space
When you find a low storage space, your first reaction is to delete files. It takes time to erase all unwanted content from your phone, but you can start by using the steps below to delete files you don't need.
Paso 1:
The first thing to do is uninstall unused apps. Go to settings and open the
General
menú. presione el
Almacenamiento de iPhone
to see the app list. Scroll down and choose the app to delete. Choose the
Aplicación de descarga
option to uninstall the app while keeping its data, or choose the
Eliminar aplicación
option to delete everything with it.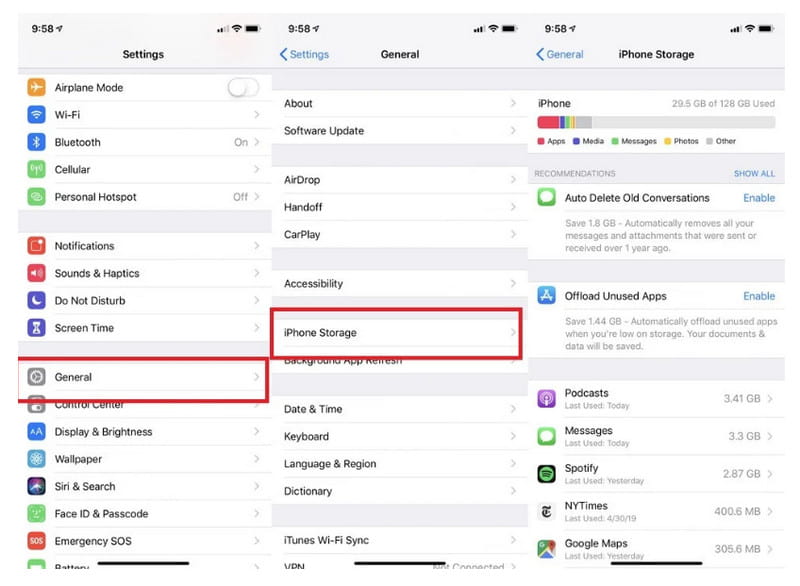 Paso 2:
Next, optimize pictures to reduce the file sizes. From the Settings app, go to the
Cámara
menú. Toque en el
Formatos
opción, luego seleccione la
Alta eficiencia
button. Note that the pictures taken on your iPhone will remain of the best quality but take less space.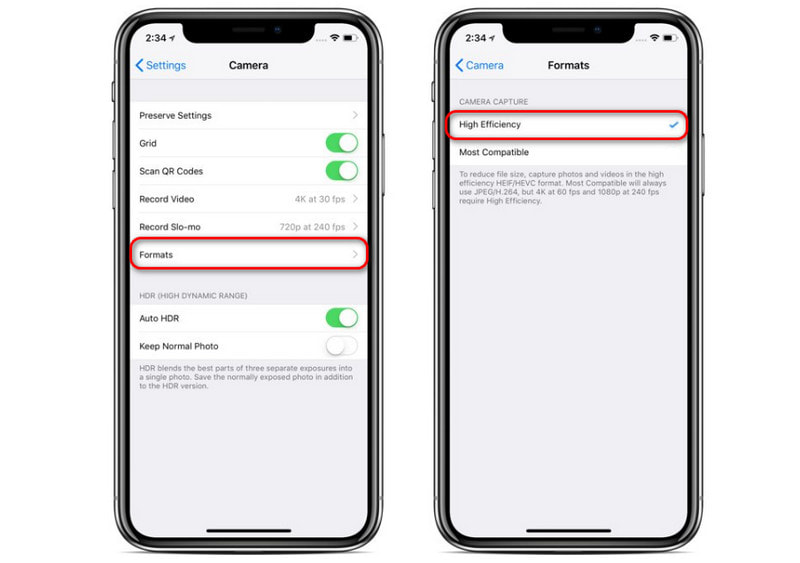 Paso 3:
Music is also another factor why your iPhone storage is full. To delete some audio files, go to settings and tap the
Almacenamiento de iPhone
menu. Find the
Música
app and swipe left on the artist to delete them from the list. Optionally, you can delete specific albums, multiple songs, etc.
Paso 4:
Clear the browser cache from the Safari menu on the Settings app. Just tap the
Borrar historial y datos del sitio web
button, then confirm the choice when a prompt appears on your screen. This action will erase the browsing history, cache, and data on Safari.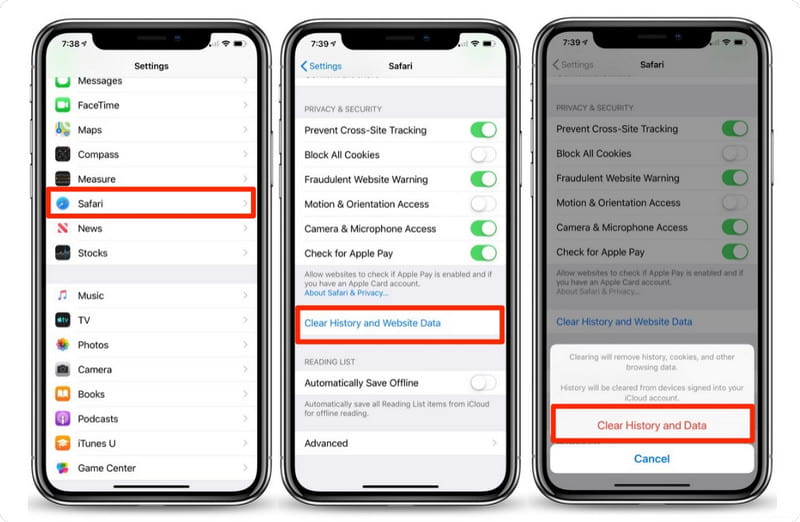 Paso 5:
Lastly, delete messages with images attached. Visit the
Mensajes
menu on your phone's settings and locate the
Mantener mensajes
option. Choose either
30 días
or
1 Año
to delete all accumulated messages. Tap the
Borrar
botón para confirmar.
Use Aiseesoft iPhone Cleaner for a Quicker Phone Declutter
Whether you want to free up space or boost the device's performance, Limpiador de iPhone Aiseesoft is the best solution. The cross-platform tool is designed to clean junk files on any iOS version, removing temporary data, app data, documents, and more. It estimates the space to free up while the user is allowed to manage the files to eliminate. On the other hand, it offers more built-in features, such as a photo compressor that reduces file sizes without quality loss. With Aiseesoft iPhone Cleaner, you can: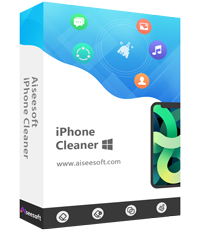 Descargas
Aiseesoft iPhone Cleaner - Eliminar fotos de iPhone
Quickly scan the iPhone storage full and delete useless files.
Fully back up and restore data for iPhone, iPod, and iPad.
Remove duplicates or merge contacts to free up space.
Use the Erase All Data feature to clean the iOS device in one click.
Paso 1:
Download the iPhone Cleaner software on Mac or Windows. Once you have finished setting it up, launch Aiseesoft on your computer and connect the iPhone with a lightning cable. Don't forget to iTunes latest version and tap the
Fideicomiso
button once prompted.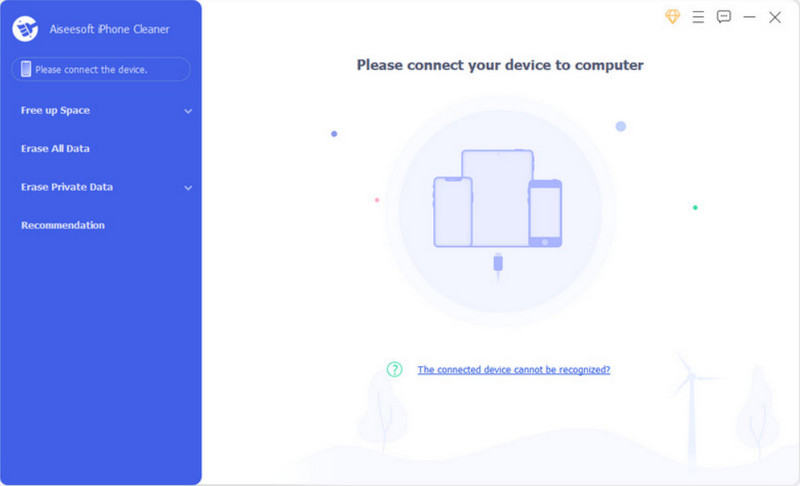 Paso 2:
When the device is connected, check the description from the software's interface. You can see more by navigating to the
Más información
menú. Haga clic en el
Análisis Rápido
button to check the files that make your iPhone storage full.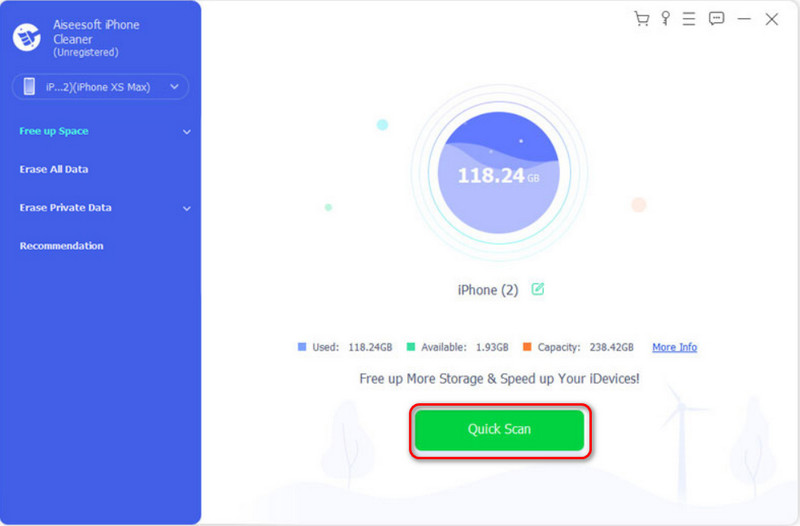 Paso 3:
Haga clic en el
borrar
botón para el
Borrar archivos basura
option to expand the list. You can check images cache, iTunes cache, invalid files, and other scanned files. Then, click the
borrar
para eliminarlos de su iPhone.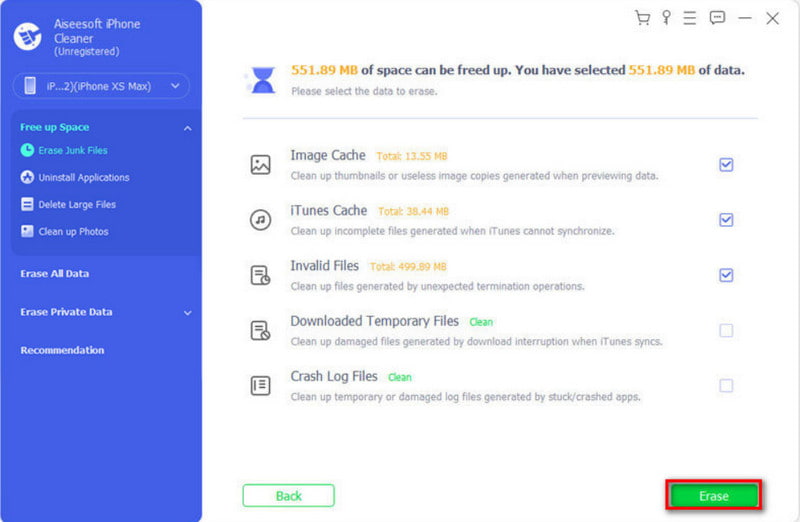 Paso 4:
Haz lo mismo para
Desinstalar aplicaciones, eliminar archivos grandes,
e
Escena no urbana Fotos
. Once you are done deleting files, check other Aiseesoft tools from the
Recomendación
menu or use the
Borrar todos los datos
to wipe data from your device.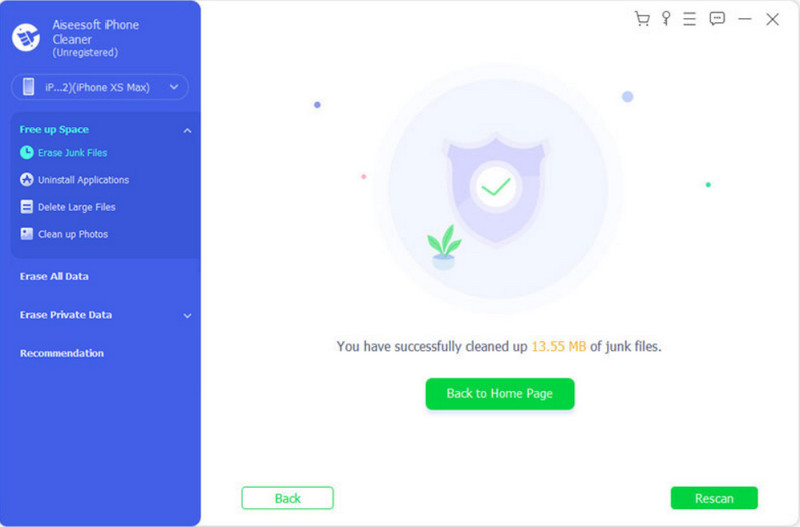 Upgrade iPhone Storage
If you don't want to risk any file when deleting data, another option you can take is to upgrade to a premium subscription and hacer una copia de seguridad del iPhone en iCloud. With this, you will not bother deleting any file, and you can even get more features like iCloud Private Relay, Hide My Email, etc. Here's what you need to do:
Paso 1:
Go to the Settings app and tap your name. From the
iCloud
menú, toque el
Administrar el almacenamiento de la cuenta
or
Administrar el almacenamiento
del botón.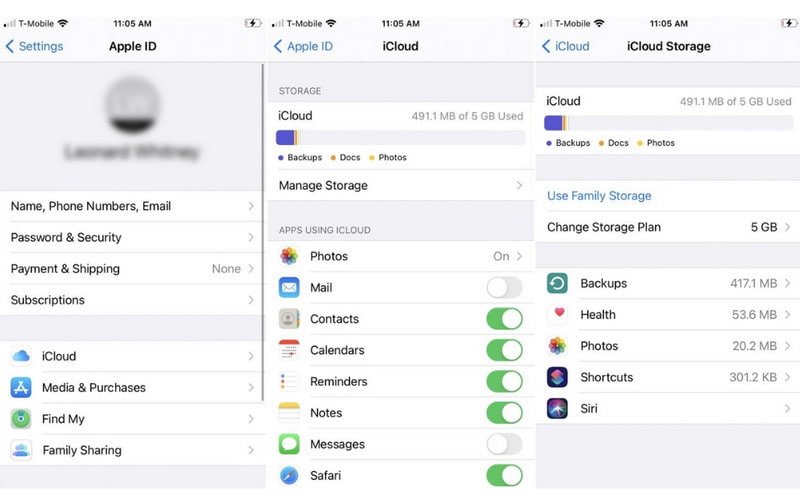 Paso 2:
Desplácese hacia abajo hasta que vea el
Actualizar a iCloud+
. Tap on it and choose a plan. Follow the instructions until you are subscribed.
Part 4. Tips: How to Check iPhone Storage
By the time you free up space on your device, you will think about how to manage it to keep from getting a low storage space. The first place to look for storage information is through the Settings app. There, it will show the iPhone's full capacity and used space by photos, system, messages, and so on. See how to get to the iPhone Storage.
Paso 1:
Abra la
Ajustes
aplicación y toque el
General
menú. Toque en el
Almacenamiento de iPhone
button to open the onscreen information about the storage capacity.
Paso 2:
With the parameter shown above, it shows how much space is used by a specific feature. Always check the
Recomendación
section to see which app is not much of a use, and then you can delete it. Moreover, the section will show other options, such as enabling the
Auto Delete Old Conversations
ajuste.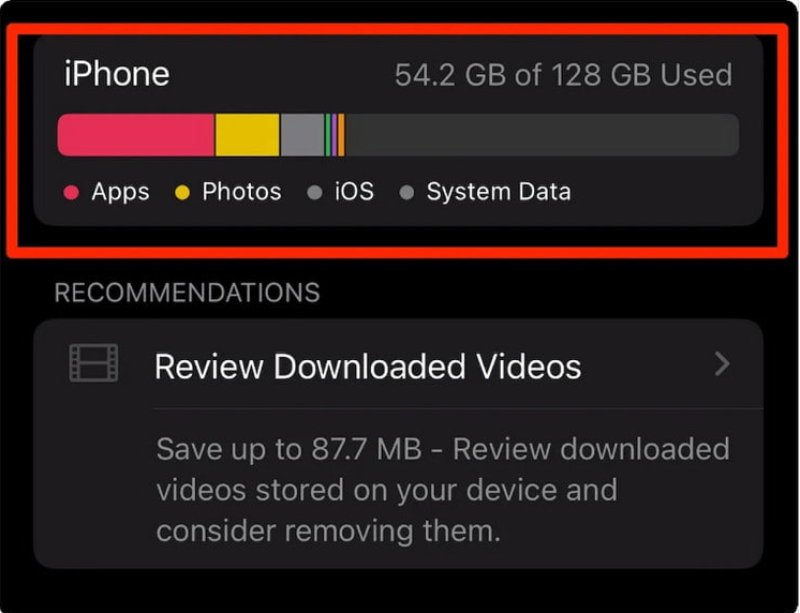 Part 5. FAQs about iPhone Storage Full
Why is my iPhone stuck on the Apple logo?
If your iPhone storage is full, this will likely happen. Your phone needs constant updates and can fail to download the needed software if you are low in space. You can force restart the device to see if it will work out.
What takes up the most storage on the iPhone?
It depends on the user. The first thing that will likely take up more space on your phone is photos if you love taking pictures. Another possible answer is apps that have a lot of app data. Surprisingly, your browser can gobble more space if cache, cookies, and browsing history are not regularly deleted.
¿Qué debo eliminar cuando el almacenamiento de mi teléfono esté lleno?
Assess the iPhone storage first before jumping to deletion. The parameter that shows the storage capacity will be your guide to which files you have to delete. Then, add app data, browsing history, and messages to your list of deleting files.
How to increase iPhone storage?
Delete files that are not needed, such as apps, temporary files, and large video files. You can also purchase a plan on iCloud to expand your phone storage.
Para Concluir
You have read what you can do when your el almacenamiento del iPhone está lleno. While you can subscribe to iCloud+ to expand the storage space or delete files manually, you can download Aiseesoft iPhone Cleaner to clean your phone thoroughly. Click the Download button to try now!

Deja tu comentario y únete a nuestra discusión