9 Audio Enhancer Reviews You Can Download on Computer & Mobile Devices
Mejoradores de audio are applications you can download to optimize and maximize the full potential of your audio for betterment. Even though the recording you have exported is low quality, you can still save it with the help of an enhancer. Be prepared today, because we will introduce the nine popular enhancers you can download on your computer and mobile for free.
Part 1. Audio Enhancer You Must Have on Your Computer This 2023 [Windows & Mac]
1. Aiseesoft Video Converter Ultimate
Sistemas operativos soportados: Windows y Mac
Tarifas de usuario: 4.5 estrellas
Aiseesoft Video Converter Ultimate is a phenomenal app you should download to perform audio enhancement on your track like a pro. It is a well-performing application that can deal with multiple audio problems, such as audio and video out of sync, audio file size, audio noise, and more. Even if you are inexperienced in performing enhancement on your track, you can still do it here if you have Windows and macOS. This app is a good pick-up for beginners and professionals; the advanced feature this app supports is a must to have. If you have decided to download this app, click the download button below. But if you want to know more about it, you can read the additional information below.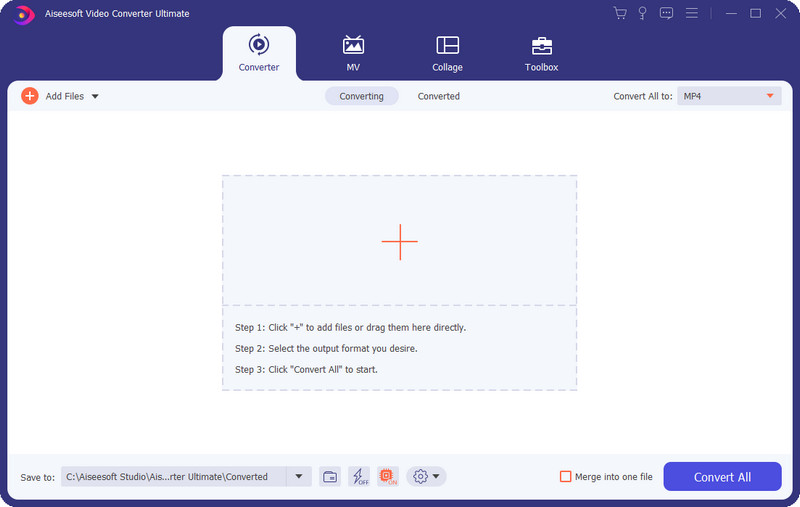 Top 5 Key Functions on Aiseesoft Video Converter Ultimate:
Lower the file size of your audio quickly without affecting the audio quality.
The audio editing process is speedy compared to most apps on the market.
Transforms noisy audio into crystal-clear sound with the help of AI.
Widely accepts most audio file formats for editing and converting.
Boost the low bass and sounds on your audio remarkably.
PROS
Free to download on your computer.
It doesn't require a higher unit for audio editing.
Intuitive interface, and it is the best choice for beginners.
It supports a generous amount of audio-enhancing features your can use.
Additional features like converting, MV, collage, and more are in the Toolbox.
CONTRAS
Only limited to Windows and Mac.
2 OBS Studio
Sistemas operativos soportados: Windows y Mac
Tarifas de usuario: 4.0 estrellas
Usted puede estar familiarizado con el OBS Studio if you are a streamer. Considering its popularity, the app remains open-source for those who want to experience a high-end app without a cost. Aside from live broadcasting, you can even edit and mix the audio here if you want to. However, you will need an expert hand and a bunch of tutorials to learn how the app works since no welcoming tutorial will appear. But there is no need to worry because you can learn how to improve audio quality in OBS in no time if you stick with it.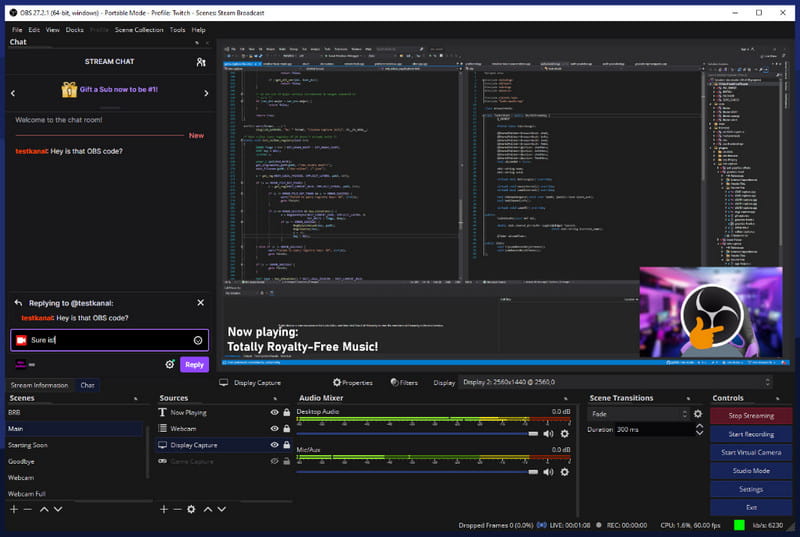 Top 5 Key Functions of OBS:
Live audio recording function.
Customizable audio settings are supported.
It supports over 28 plug-ins for other purposes.
It has a lot of tabs that can work simultaneously.
Ability to add audio effects or filters as well.
PROS
Open-source application to have on.
It collaborates with other social media platforms.
PIP is supported.
CONTRAS
Challenging to use since there is no tutorial added.
Some command keys aren't working correctly.
3. Audacia
Sistemas operativos soportados: Windows y Mac
Tarifas de usuario: 4.5 estrellas
Audacity is a widespread audio recording application for podcasters and music producers. With an app like this, you can blend in some effects to improve the sound. If you have a bunch of tracks and want to enhance them, then this app could be life-saving for you since it has a multi-track audio editor that you can use. Same as the OBS, the app remains free to download on all major operating systems on a computer. That support many have supported the app on different platforms, but some new users need help using it for enhancing and recording; that is why you will need a tutorial on improving audio quality in Audacity whenever you need it.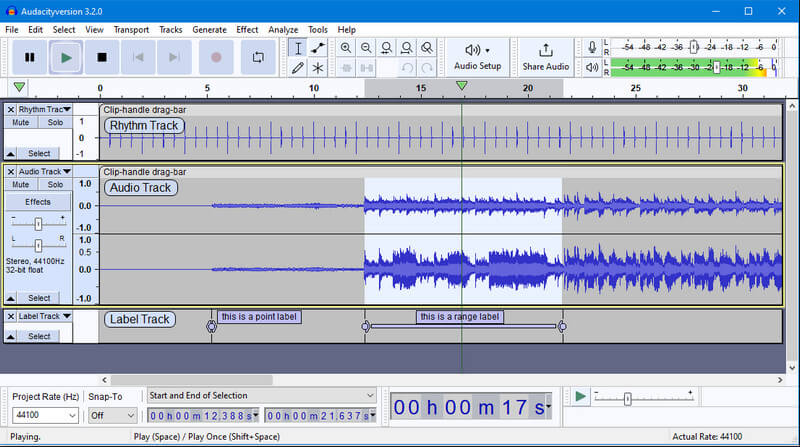 Top 5 Key Functions of Audacity:
Recording real-time audio through a microphone or digitized media is supported.
Edición y compressing audio files is more accessible with this app.
It can customize the sound quality of the audio by 16-bit, 24-bit, and 32-bit.
It supports additional plug-ins to modify your audio file.
Spectrogram view mode is available here.
PROS
It can play mono and stereotype.
Download the app on Windows & Mac at no cost.
It can work with multi-track projects.
CONTRAS
There are RAM and GHz processor requirements.
Most of the features are hidden on tabs.
UI needs to be more organized.
4. Boom3D
Sistemas operativos soportados: Windows y Mac
Tarifas de usuario: 4.0 estrellas
Con auge3d, you can play an enhanced audio version by tweaking some settings and parameters here. The app improves its GUI to help the user easily distinguish the features in here. Thru connecting your sound output, you can even produce an expansive 3D spatial sound that you won't get on most applications on the market. But that feature is unavailable for the free version, so purchasing the app is necessary. If you have enough money, this could be an essential app you need daily.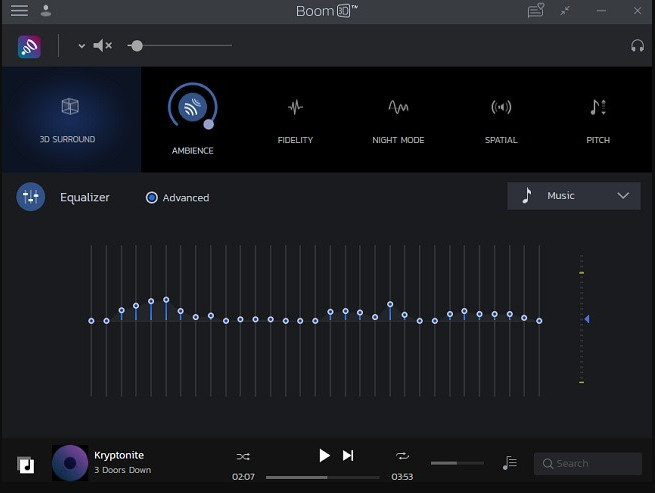 Top 5 Key Functions on Boom3D:
Powerful audio equalizer with the addition of presets you can use.
Build your own presets to make the audio file match your taste.
It has a bunch of effects you can combine with.
The 31-band equalizer is accessible for smooth audio playing.
A 3D Surround audio engine is supported.
PROS
It can be used as an audio player.
It supports a wide variety of audio output.
Free 30 days trial.
CONTRAS
Audio management needed to be improved.
The audio player is limited.
5. Audioalter
Sistemas operativos soportados: Basado en la Web
Tarifas de usuario: 4.0 estrellas
Audioalterar is the only audio quality enhancer online we added to this article. With this online app, you can skip downloading it since it is accessible on any web browser you have on your device. If you are looking for a aplicación de aumento de volumen, then consider using this because it has a bass booster and equalizer that you can use. Since it is a web tool, you will need a stable and robust internet connection so that there will be no interruption that will go to happen while enhancing it here.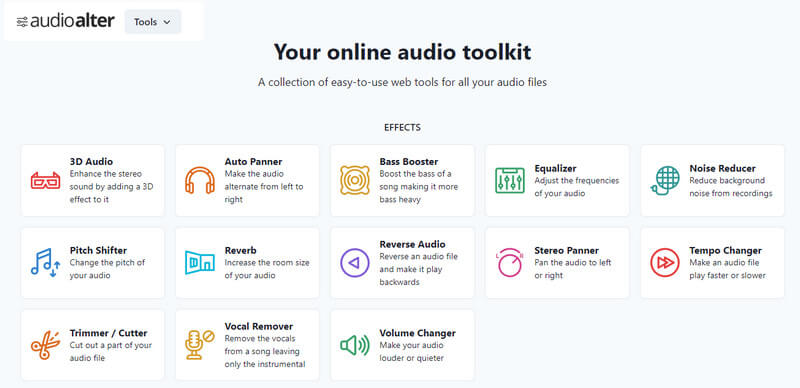 Top 5 Key Functions on Audioalter:
It can add 3D effects to the stereo sound.
Improve the audio sound from left to right using the Auto Panner.
Enhance the bass of the audio file with Bass Booster.
Manually override the frequencies of the audio with Equalizer.
Play audio faster or slower with Tempo Changer.
PROS
It has multifunctional features for enhancing and making audio better.
No need to download the app.
No es necesario registrarse.
CONTRAS
Requiere una conexión a Internet estable.
Applying effects might take a while.
Part 2. Top 4 Audio Enhancer Apps for iPhone and Android Devices
1. Volume Booster - Sound Better
Sistemas operativos soportados: Android
Tarifas de usuario: 4.7 estrellas
Booster is the best audio enhancer app you can download on your Android device. Moreover, you can fix low-quality audio sound by extending the boost option to 200%. With the help of this app, you can enjoy listening to your favorite music using the built-in speaker of your phone or headphones. Though it has the best-boosting option, you can't adjust the audio frequencies playing here since it is unsupported.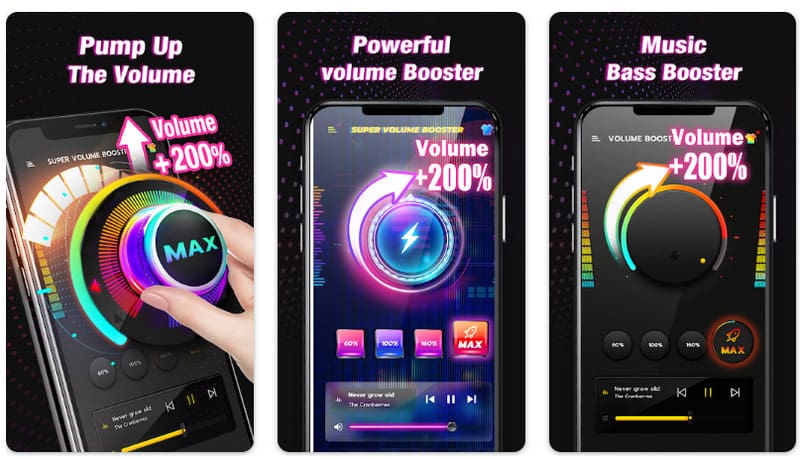 2. Equalizer FX: Sound Enhancer
Sistemas operativos soportados: Android
Tarifas de usuario: 4.2 estrellas
Another Android app you can use and learn how to improve audio quality is the Ecualizador FX. This app offers more features that you can use to manipulate the audio compared to the previous one. You can modify the audio frequencies from lowest to highest using the equalizer. Plus, you can even optimize the arrangement of your favorite genre in the Profile tab of the app. However, the app can't make the sound playing on your Android loud enough like what Volume Boost does.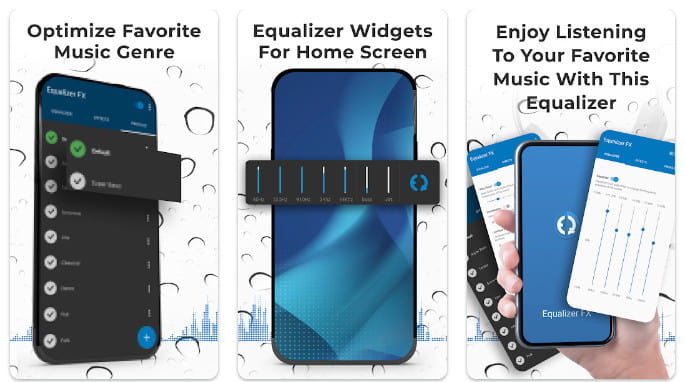 3. Boom: Bass Booster & Equalizer 4+
Sistemas operativos soportados: iOS
Tarifas de usuario: 3.9 estrellas
Need to improve your soundtrack bass on iOS? Try to use this audio-enhanced software known as Auge. The app features full bass, intensity, 3D surround, and EQ presets to set it up for a better listening audio purposes. Its level of enhancing the track is almost at par with the desktop app since it has a customizable 16-band equalizer you wouldn't usually see on the mobile app. Even though its performance is excellent, the UI of it needed to be improved, and some basic controls aren't functioning well. But overall, the app is excellent for playing a better sound quality.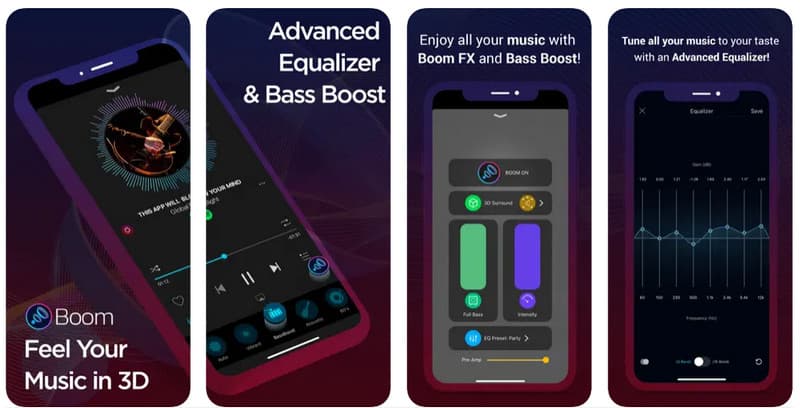 4. Audio Enhancer 4+
Sistemas operativos soportados: iOS
Tarifas de usuario: 2.3 estrellas
Potenciador de audio could be the audio enhancement software you are looking for on your iPhone. This app allows you to change the audio signals at your preference manually, but if you don't want to do it manually, you can use the activate the drive function for fine-tuning and power boost. Though the app is great, there are still bugs and issues that the developers need to fix here.
Part 3. Comparison Chart for the Audio Enhancer Apps on Desktop & Mobile Devices
Caracteristicas
Aiseesoft Video Converter Ultimate
OBS
Audacity
auge3d
Audioalterar
Volumen Booster Pro
Ecualizador FX: potenciador de sonido
Boom: Bass Booster & Equalizer 4+
Audio Enhancer 4+
La facilidad de uso
Fácil de usar
Moderado
Moderado
Fácil de usar
Fácil de usar
Fácil de usar
Fácil de usar
Fácil de usar
Fácil de usar
Additional Audio Editing
Disponible
No Disponible
Disponible
No Disponible
No Disponible
No Disponible
No Disponible
No Disponible
No Disponible
Audio Converter
Soportado
Not-supported
Not-supported
Not-supported
Not-supported
Not-supported
Not-supported
Not-supported
Not-supported
Tamaño del archivo
2.26 MB
117 MB
13.7 MB
70MB
No instalacion
30 MB
7MB
121.7 MB
17 MB
Precios
For 1 Month: 23.20
Vida útil: 49.96
Business License: 119.00
Gratis
Gratis
For Lifetime: $49.99
Gratis
$ 2.99 up to $ 25.99 in-app purchase
$ 0.99 up to $ 129.99 in-app purchase
$ 3.99 up to 39.99 in-app purchase
Gratis
Part 4. FAQs on Audio Enhancer App
Does enhancing audio enlarge the file size?
With the enhancer, you will notice that the file size of the audio you have enhanced will become larger since there are some settings on audio adjusted.
Can I improve the audio quality of the video?
Improving audio-video quality is simple by using an appropriate tool, like the Aiseesoft Video Converter Ultimate.
What is the best way to make audio sound better?
Manipulate the EQ effects of the audio using an app, or the presets available on your device. Most of the default audio player on desktop and phones has preset effects that you can activate and use.
Conclusión
An potenciador de audio is an important tool that you will need, especially for pre-processing your recording on your podcast or music creation. Without it, you couldn't eliminate the added mixed signals and noisy low-frequency background. Did you learn something here? Are you willing to share that information with us? If so, you can give feedback and comment below.

Deja tu comentario y únete a nuestra discusión