Best Ways to Fix iPhone Wi-Fi Connection Issues (With or Without Password)
WiFi is a wireless network that uses radio frequency signals and can form a connection between two devices. WiFi is widely used in homes, shopping malls, and companies today. We cannot deny that it has indeed brought convenience to our lives. However, remembering the password seems an eternal problem for us. You may encounter many different and confusing situations during the connection process, so we will offer practical ways and recommend useful tools to help connect iPhone to WiFi in several different conditions.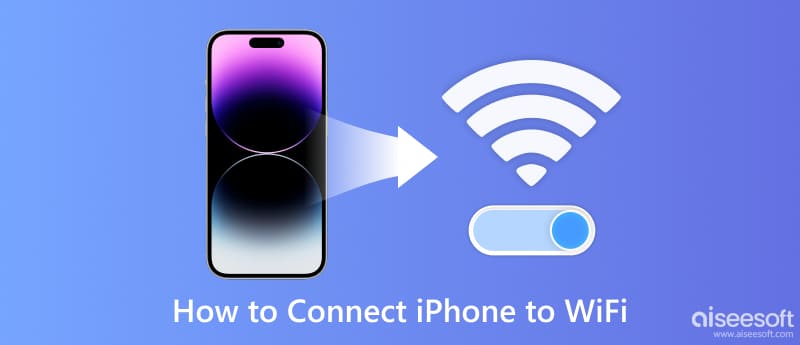 Part 1. How to Connect iPhone to Wi-Fi
You just need to follow a few simple steps to connect your iPhone to a visible WiFi or a hidden one. Just follow the detailed guide below.
Way 1: Connect Your iPhone to a Visible Wi-Fi
Paso 1:
Encuentra los
Inicio
screen, and choose the
Ajustes
del icono.
Paso 2:
Toque en el
WiFi
button, and turn on WiFi. Then your phone will search for the available WiFi networks automatically.
Paso 3:
Choose the one you want to connect, or you can directly search for it by typing its name.
Paso 4:
Enter the password, and choose
Únente
.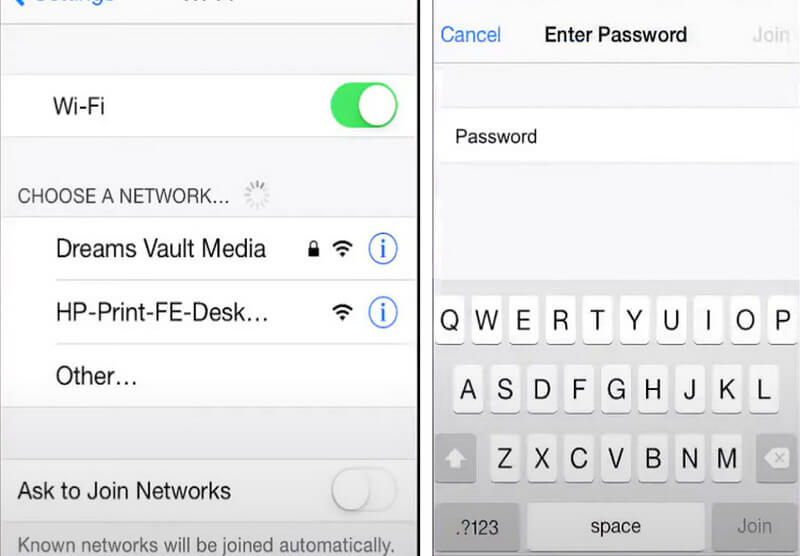 Way 2. Connect Your iPhone to a Hidden Wi-Fi
Paso 1:
Elija
Ajustes
desde la pantalla de inicio de tu teléfono.
Paso 3:
Toque en el
Otro…
button beneath the listed networks.
Paso 4:
Type the name of the target network, and select the security of the network.
Paso 5:
Return to the previous page, and type your password. Finally, press
Únente
.
Now, your iPhone is connect to WiFi, and you can enter any websites as you need.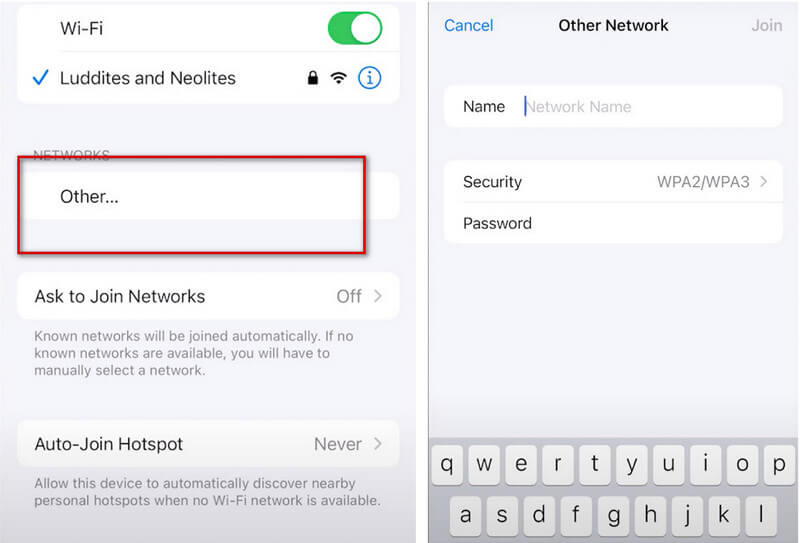 Part 2. How to Connect iPhone to Wi-Fi Without Password
If you want to connect your iPhone to WiFi without password, you can choose WiFi sharing. Before sharing, you need to ensure that both your and the sharer's devices are updated to iOS 11 or later OS, and your Apple ID email address must be added to the contacts of the sharer's device.
Also, you should ensure your device is close to the sharer's.
Paso 1:
After turning the WiFi on, choose the network you want to join.
Paso 2:
Let the sharer unlock his or her device, and he or she will get a notification. Tap
Compartir contraseña
.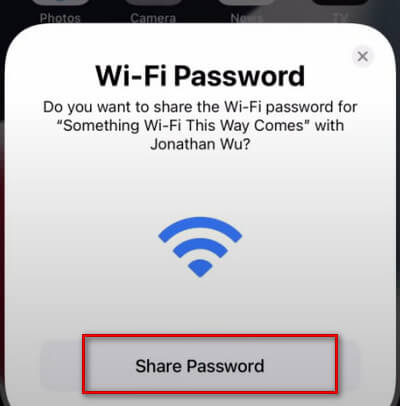 Then your device will receive the password, and you can connect to that WiFi network.
Part 3. How to Connect iPhone to Wi-Fi When You Forgot Your Password
If you forget your password, we highly recommend Administrador de contraseñas de iPhone de Aiseesoft. It can scan and find your important passwords saved on your phone and export any account and passwords to a CSV file. You can keep this file in case you want to share your passwords with others or change them when needed. Moreover, your passwords will be restored to your iOS device. This way, you do not need to type your password every time you log in to your account.
Here we will provide you with step-by-step instructions to ensure your smooth use.
Paso 1:
Download Aiseesoft iPhone Password Manager, and open it. Then connect your iPhone to the PC.
You may need additional settings as well as entering your iPhone lock screen password to get your phone and trust this computer.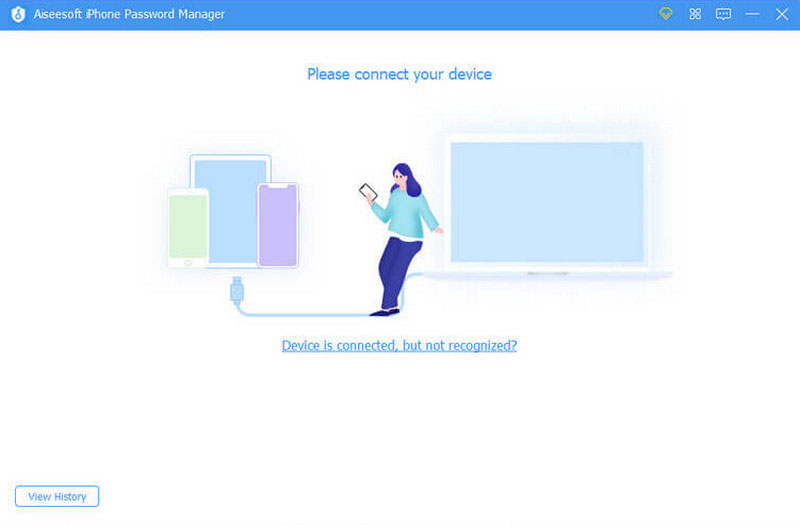 Paso 2:
Haga clic en el
Escanear
button in the corner, and you can find all passwords saved on your iOS devices.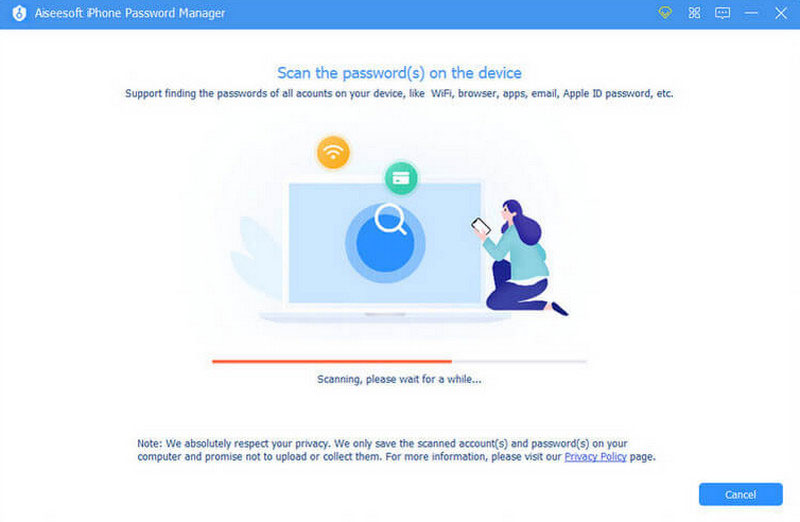 Paso 3:
Now, you can view and export any password according to your needs. Turn on your WiFi, and type the password to connect your iPhone to your target network.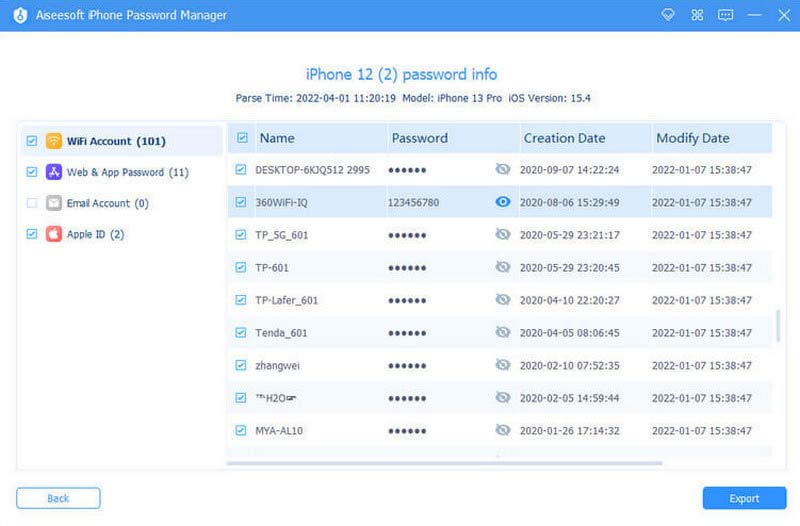 Part 4. How to Fix When Your iPhone Doesn't Connect to Wi-Fi
Sometimes you may fail to connect iPhone to WiFi, and the reasons can vary. It is easy to fix. We offer some tips to help you solve this problem from several aspects, follow them and restore your iPhone WiFi connection.
Way 1: Restart Your Device
The easiest way is to restart your iPhone. It helps to clean up and refresh your iPhone.
Paso 1:
Pulse el botón
Encendido Apagado
y
Tamaño
botones hasta que
de apagado
slide appears.
Paso 2:
Drag the slider from left to right to turn off your device.
Paso 3:
Mantenga pulsada la
Encendido Apagado
button until the Apple logo emerges.
Way 2: Turn Off Wi-Fi and Back on Again
Paso 1:
Abra la
Ajustes
icono y toque
WiFi
.
Paso 2:
Press the switch nearby
WiFi
.
Sometimes, a minor problem can affect the iPhone WiFi connection. You can fix it by restarting WiFi.
Way 3. Forget Your Wi-Fi and Reconnect
A large amount of data can sometimes make it difficult for your device to sort it out. We can erase the network to refresh the system. However, you need to remember your password in advance to avoid being unable to connect iPhone to WiFi again.
Paso 1:
Entrando
Ajustes
y tocando
WiFi
.
Paso 2:
Toca el azul
"yo"
nearby the network you want to forget.
Paso 3:
Pulsa para buscar
Forget This Network,
y elige
olvidar
again when asked to
Forget WiFi Network "(network name)"
?
Paso 4:
Reconnect the WiFi network.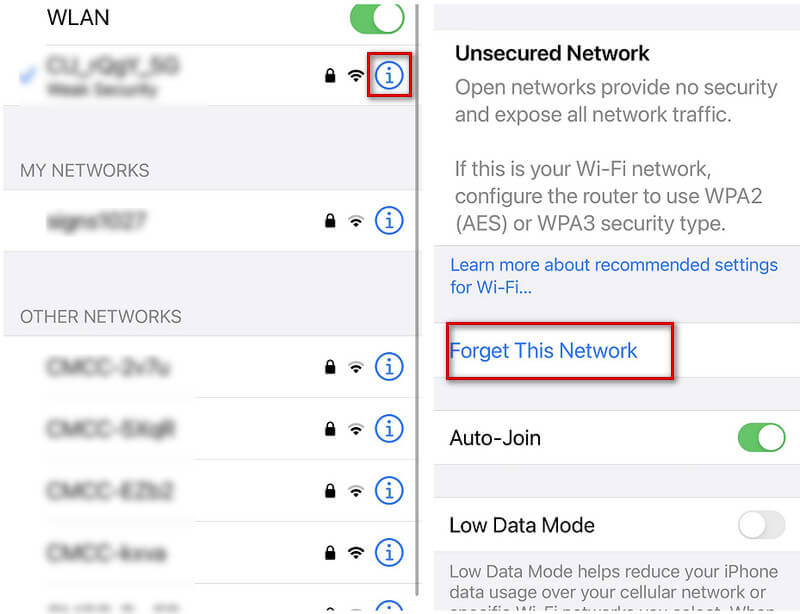 Forma 4: restablecer la configuración de red
Complex system problems may be challenging to deal with. We can reset all network settings at that time instead of dwelling on complex issues.
Paso 1:
Abra la
Ajustes
del icono.
Paso 3:
Encuentre
Transferir o restablecer iPhone
y tóquelo.
Paso 4:
Pulsa para buscar
Restablecer configuración
.
Paso 5:
Pulsa para buscar
Reiniciar configuración de la red
.
Paso 6:
Your phone will shut down, and reset it.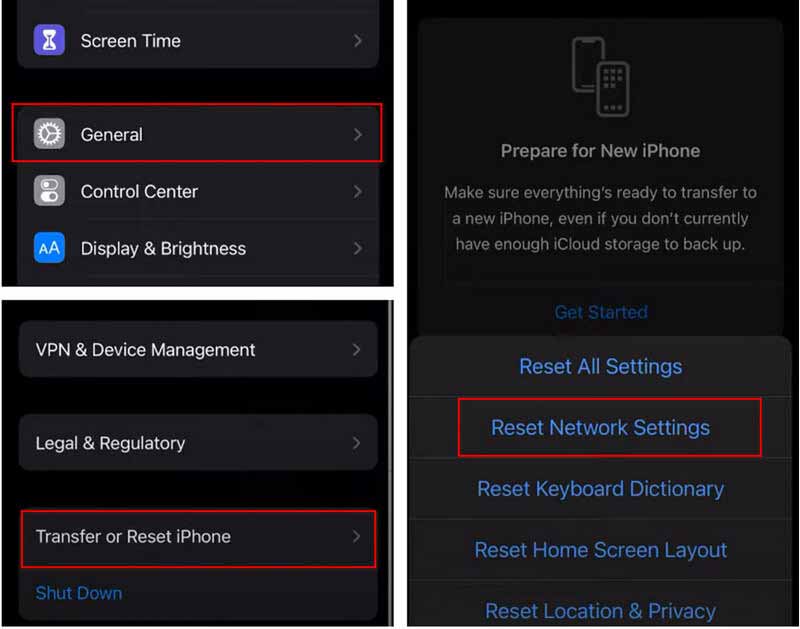 Way 5: FoneLab iOS System Recovery
If you have tried all of our recommended methods above, but your still cannot connect iPhone to WiFi, you may try to fix your iPhone to a normal state. We recommend FoneLab iOS recuperación del sistema to you. It can help you to fix your iOS system in various scenarios. You need to connect your phone to your PC; this tool will help detect your device. A detailed guide will be offered to direct you to fix the system if it needs to be repaired. Also, we guarantee the safety of your data.
Aquí están los pasos.
Paso 1:
Install program and open it. Choose
Recuperación del sistema de iOS
.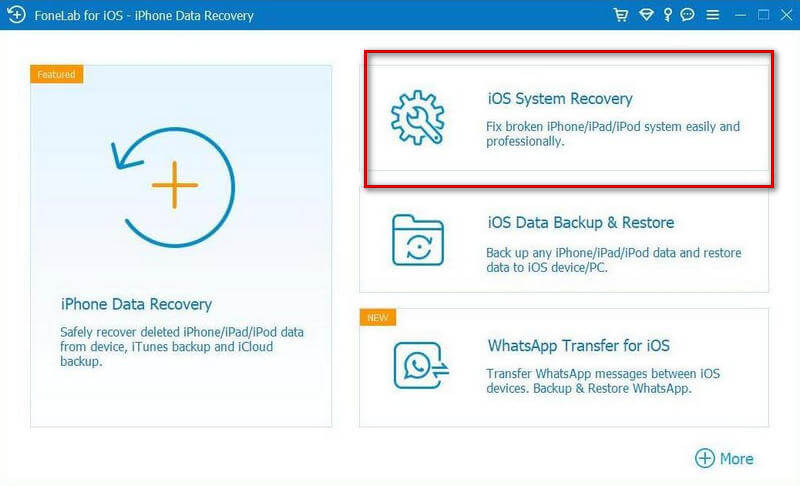 Paso 2:
Connect your iPhone to the PC with USB data cable. In this process, you may need to type your iPhone password to let your phone trust your computer.
Paso 3:
Select the repair mode, and press
Confirmar
.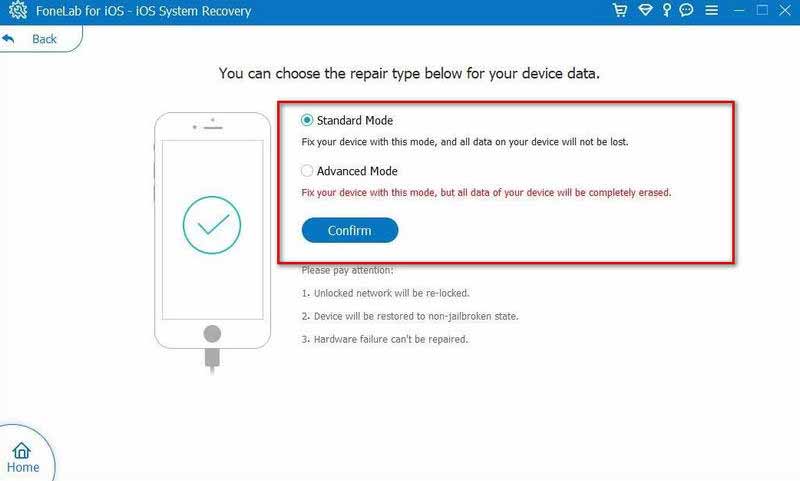 Paso 4:
Download the firmware, and start to fix the broken iPhone.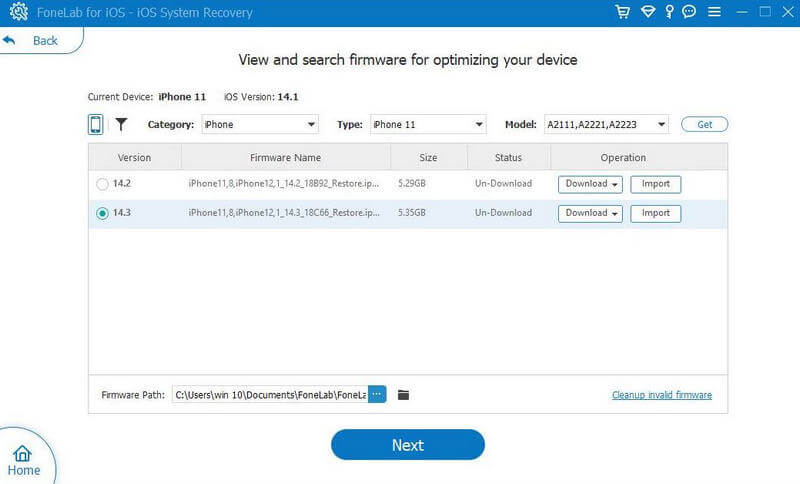 Way 6: Contact Apple Support Team
If the methods above do not work, try contacting Apple officials for help.
Part 5. FAQs About Connecting iPhone to Wi-Fi
Will I lose anything if I reset the network settings on my iPhone?
Network reset is a process that can help you fix your connection issues. It will not cause any data loss, and no video or photo will be deleted during resetting. The resetting network brings back all the settings related to the network to their original state.
Why does my iPhone say weak security when connected to WiFi?
This message always reflects that the WiFi source you are connecting is not using the latest security protections. The network might expose your private information. To solve this problem, you should update the settings of your WiFi router to meet the security standard.
How do I know if I am connected to WiFi?
A WiFi icon will appear in the bottom right corner of your screen if you are connected to WiFi. Also, you can turn to your phone's Network and WiFi settings, and The WiFi network will be marked as Conectado.
How to connect Android phones to WiFi without password?
You just need to push the WPS button on your router, and choose Ajustes de WiFi. tocar Conecte con. Then a popup will appear to lead you to press the WPS button on the router. You need to press it within 30 seconds. Otherwise, you have to repeat the process. Finally, your phone will connect to the WiFi without any password.
Conclusión
Nowadays, WiFi is everywhere in our lives. Many problems also follow. We have provided you with the most useful instructions to help you solve your iPhone connection problems. Whether you have forgotten your password or have problems with your device, we have found the best solutions for you! Leave your comment below and participate in our discussion.

Deja tu comentario y únete a nuestra discusión