Part 1. 8 Anonymous Instagram Stories Viewer to View Stories, Post, and More for Free & Paid
1. Stories IG
Historias de IG allows you to view the Instagram stories of others posted publicly, even if you don't have an existing account. It is also web-based, which means you don't need to download the app as long as you have an internet connection and browser. Though you can visit and view the others, the record of your anonymity will remain invisible to the owner of that post. Also, if you want to download their stories or post on your device, you can do that with the help of it.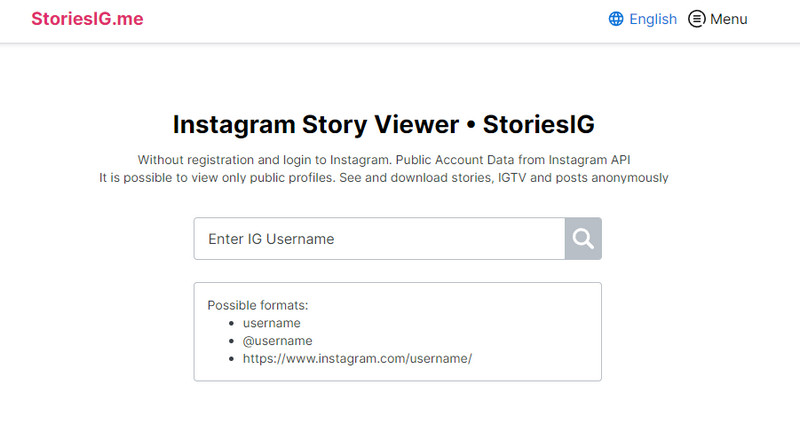 2. StoriesDown
StoriesDown, the name suggests it all; it is a viewer you can use to view Instagram anonymously without an account. It is impressive that even without an account, you can easily see the activity of IG users with the help of this kind of tool. Input the username of the one you want to be searched for, then hit the search button, and all the results will appear on your screen. After that, you can download videos and photos you have seen into your device for free.
3. Visor de historias de Insta
Insta Stories Viewer can also be an Instagram profile viewer you can load online. When you have this in your arsenal, there is no need for an expert level of infiltrating an account. With this, you can type in the user's nickname on IG, and the result will show you. It is a free online platform, so you don't need to download the app before accessing it. Since it is a web tool, it is expected that different nationalities will use this.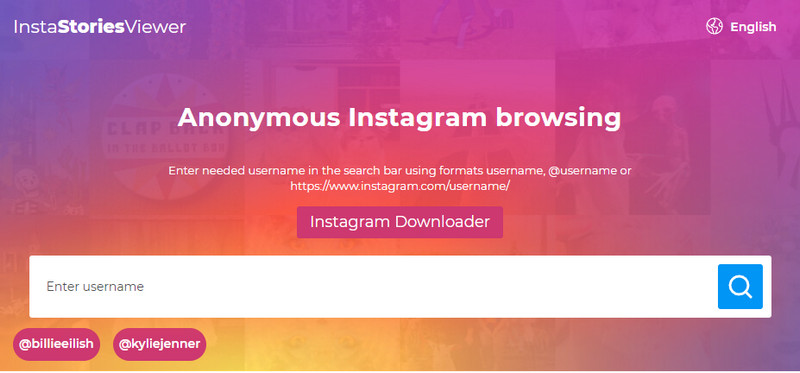 Fortunately, the app supports multiple languages so that everyone can understand the options and buttons. If you are interested in how to use it, a tutorial is added on the leading web, and additional FAQs are frequently asked about this app. Later, if you want to obtener más me gusta en Instagram, you must read the following information.
4. Glassgram
Glassagrama is one of the best Instagram highlight viewers you can download on your device. It has advanced spying technology that allows any user to see what's inside of the user's account, such as profile, posts, stories, and highlights; aside from that, there is nothing else it can access. Plus, the app has content tracking that monitors the users' activity daily and will update you constantly to ensure you get all the information. Despite its advanced technology, you must purchase it for $ 59.99 per month and $ 159.99 per year. It can be too expensive for others, but for those who want to try this for free, there is a free trial that this app supports limitations also.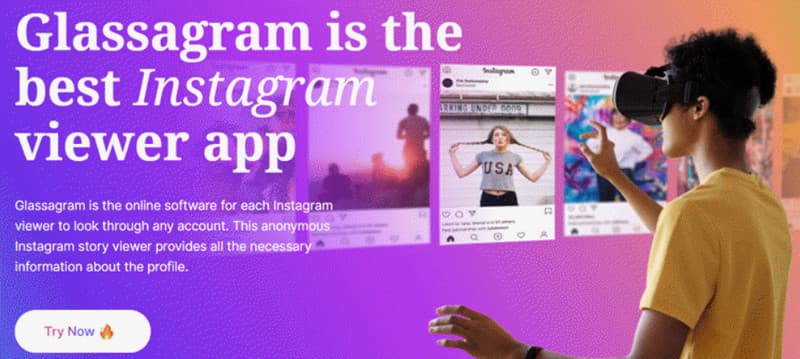 5. uMobix
If you are a concerned parent and want to know your child's activity, you can now download the uMobix on your device for free and use it as your private Instagram viewer. Thus, you can use this app's service even if you don't create an account on its platform and IG. Without them knowing it, you can privately know what they are about to upload, share, and watch using the Instagram, then view their daily post if you want to. Besides having a website, you can download the version on different mobile devices, such as Android and iOS. So, if you want a legal app that you can use for legal purposes, choose this.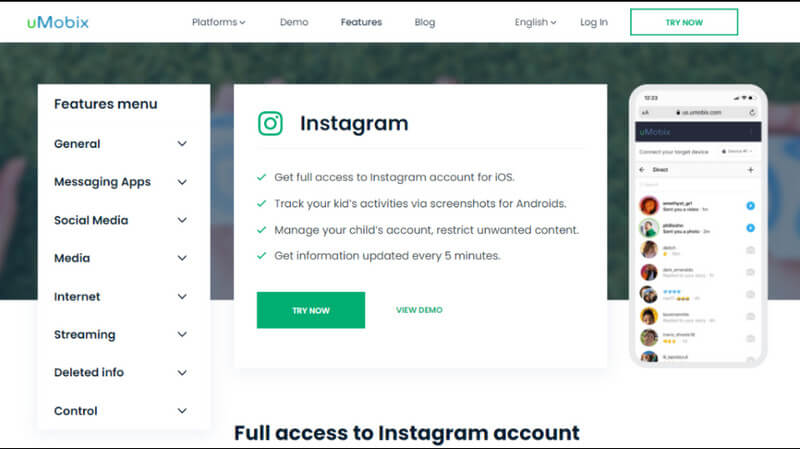 6. EyeZy
To view Instagram stories anonymously, you can choose ojoZy. It is a dedicated viewer app to see one person's activity from your mobile device. With it, you can monitor their daily online or offline search. Plus, the app includes advanced features like parental controls that you can easily use to monitor activities on the phone itself and track them. This app could be your best choice if you want an all-in-one application. However, there has been a thousand bad feedback it receives from other users on mobile devices in regards to its service. As they say, nobody is perfect; the same goes for the app.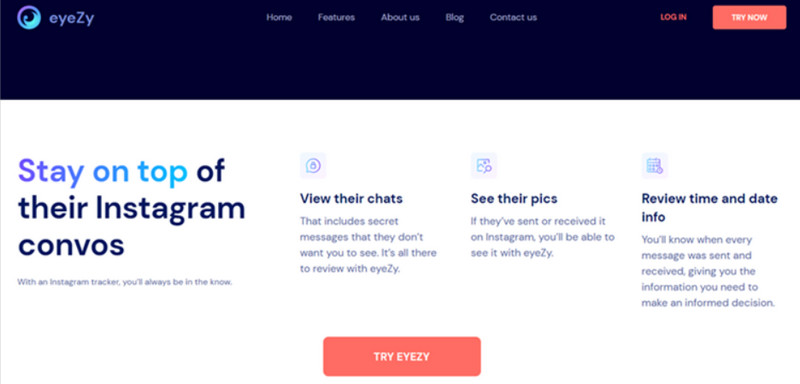 7. Historias de Qoob
Con Historias de Qoob, you can easily view Instagram stories and download them if you want to. If you haven't noticed, there is no option to download private content on IG; that is why you can use this if that happens to you; even public posts will be a piece-of-a-cake task to download. If you want to do that, you will need just the person's username and paste it into the search box; then, you can view and download the contents. The app is built with a simplistic design, so anyone wanting to use it can easily participate. However, before using it, you must download the app and purchase a plan to continue using it without any limitations.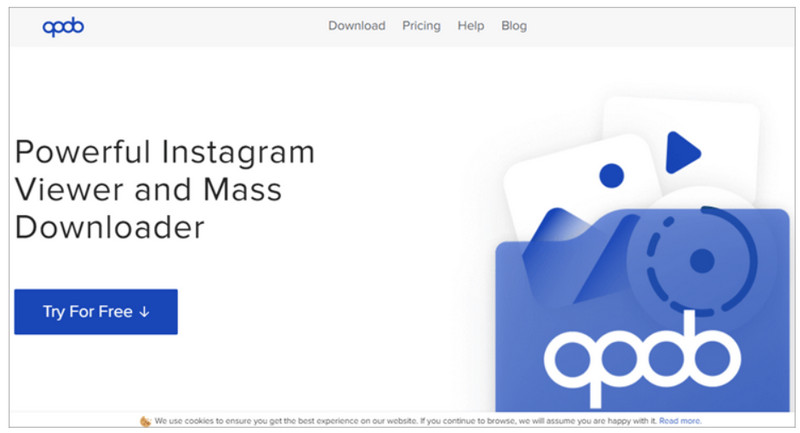 8 mSpy
What if you want a tool to be used as an Instagram profile viewer and on another platform? Then push on selecting the mSpy. Here, you can not only see the activities of the user but also see their conversation and interaction as well. If you are a parent, this feature is great to have. Also, you can do that without downloading another tool on their phone or notification that you are monitoring them. You can also block websites you don't want them to visit and recover deleted messages. When you use this, the app will automatically notify you every 5 minutes of the user's changes. But when you visit the app's main website and try to download it, the browser you are using will notify you that this website is suspicious and automatically give you the cookies. The free version is limited, so you must purchase this to continue using it.